NBC Insider Exclusive
Create a free profile to get unlimited access to exclusive show news, updates, and more!
Sign Up For Free to View
This Is How You Vote for the AGT Instant Save
You have just five minutes to determine the 11th and final finale Act.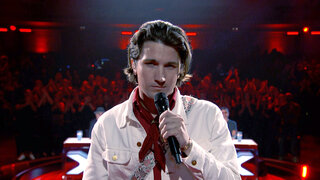 With the America's Got Talent Season 18 Final just around the corner, we're very close to rounding out the Top 11 Acts who will compete. Right now we know that Chibi Unity, Anna DeGuzman, Putri Ariani, Mzansi Youth Choir Murmuration, Ahren Belisle, Lavender Darcangelo, and Adrian Stoica & Hurricane have all advanced to the Finale. 
Two more Acts will be determined by America's Vote, but the 11th Act won't be chosen with the typical fan vote we've been using from week-to-week. Instead, they'll be determined with the special AGT Instant Save, which will combine the Judges' expertise and the fans' excitement. So, what does that mean, exactly? We explain it all below.
How do I vote for the AGT Instant Save?
Keep an ear out during the Wednesday, September 20 Live Results Show because Host Terry Crews will announce when the AGT Instant Save is open live on air. Following Crews' reveal, you'll have just five minutes to go on the AGT App or NBC.com to cast your vote. Just one vote is permitted per person.
How does the AGT Instant Save work?
The AGT Instant Save exists to determine the 11th and final Act to qualify for the Season 18 Final on September 26 and 27.
So, how do we determine who qualifies? Each Judge will pick one Act—who was previously eliminated during this season's Live Shows—whom they feel is deserving of a second chance. Once those performers are revealed, it will be up to the viewers to choose just one of the four Acts via the AGT Instant Save in a majority vote. The results of the AGT Instant Save Vote will be revealed at some point during the September 20 Live Results Show, officially rounding out 2023's Top 11 Acts headed to the Final.
Who are the Acts I can vote for to receive the Instant Save?
Avantgardey, Gabriel Henrique, Herwan Legaillard, and Chioma & the Atlanta Drum Academy were the four Acts eligible to win the Instant Save during September 20's Live Results Show.
In the end, Avantgardey won the vote and advance to the Season 18 Top 11.
Originally published Sep 20, 2023.