NBC Insider Exclusive
Create a free profile to get unlimited access to exclusive show news, updates, and more!
Sign Up For Free to View
Here's Everything to Know About the New Quantum Leap
Time travel, romance, an iconic original series? Buckle up, it's going to be a wild ride!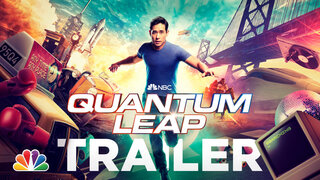 A new Quantum Leap is coming to NBC! The original version of the time-travel adventure series aired in the '90s, and almost 30 years later, fans are gearing up for an exciting new iteration. Here's everything you need to know about the new Quantum Leap before you tune in. 
Watch Episode 1 of Quantum Leap
The setting
The new Quantum Leap is set in the present day, about 30 years after the main character from the '90s, Dr. Sam Beckett, vanished into the Quantum Leap accelerator. Our new leading man, Dr. Ben Song (Raymond Lee), is now the one who time travels across various moments in history and "leaps" into someone else's body but retains his own consciousness. According to executive producer Martin Gero, although the new show is inspired by the original, it does not serve as a reboot or sequel. 
"We want to deliver a show that feels like it has a reverence for the O.G. Leap," said Gero. "But we also want the feel to be modern and something new fans will love."
The new characters
Beckett has passed the torch to Ben, who loses all memory of his past after his first time leap. Caitlin Bassett plays Ben's right hand, Addison Augustine. Addison appears as a hologram to Ben whenever he leaps into someone else, acting as his guide. But a complicating factor is she's also his fiancée—who he doesn't remember. We'll also meet Herbert "Magic" Williams (Ernie Hudson), Ian Wright (Mason Alexander Park), and Jen Chou (Nanrisa Lee). And let's not forget the lovable AI Ziggy, who will be returning to the new series. Here is a complete breakdown of the cast. 
The technology is more advanced 
According to Bassett, audiences can also expect more advanced tech both in the show production and within the world of the series. 
"The technology has moved forward a bit, which is really exciting, and it's opened up some new things for us," Bassett told NBC.
The new series follows a similar premise to the original 
As it relates to the plot, the new Quantum Leap explicitly acknowledges the original program and the three decades that have passed since Dr. Beckett's disappearance. However, Dr. Song serves as our new protagonist who is experimenting with time leaps within a similar episode structure as the original. 
Dr. Sam Beckett is still missing
In the new time-travel show, the original Dr. Beckett is still missing somewhere in time. Although Episode 1 does tease Dr. Beckett's existence, it's too early to know for certain how much of the  original plot  will intertwine with the new show. 
There's new accelerator coding, the exact effects of which aren't known. Before Ben disappeared into the accelerator and lost his memory, he rewrote several aspects of the program's coding, and the team at headquarters is still trying to figure out why. And Ben seems to be working with a secret liaison. 
It's implied that Ben is in communication and possibly working with someone outside the official Quantum Leap team at headquarters. Shortly before he enters the accelerator, he receives a suspicious text that plays to a future plot point. 
The episode count
There will be 19 episodes total of Season 1. 
Watch Quantum Leap on Mondays at 10/9c on NBC and next day on Peacock.