NBC Insider Exclusive
Create a free profile to get unlimited access to exclusive show news, updates, and more!
Sign Up For Free to View
Heidi Klum Wore the Sparkliest Sheer Mesh Jumpsuit to See Adele in Concert
The glamorous outfit was for a very special occasion! Watch AGT: All-Stars on NBC.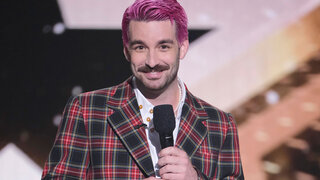 Heidi Klum is an Adele fan!
On February 12, the America's Got Talent: All-Stars Judge took to her official Instagram page to show off her ultra-sparkly outfit before excitedly attending an Adele concert.
"We're going to see Adele!" Klum enthusiastically posted a close-up video of her face adorned with a smokey eye and neutral lips while her husband, Tom Kaulitz, affectionately stood closely behind her.
In the second video, we see the model confidently strutting down a hallway while Adele's upbeat tune "Oh My God" played. The camera followed closely behind Klum as she rocked a sheer, sparkly long mesh jumpsuit and a giant fluffy lavender boa jacket. She turned toward the camera a few times while playing with her hair and swaying to the music.
Klum then posted a series of clips and photos of her at the concert, and a few more snapshots of her in the glamorous outfit. This time, we got to see her open-toed silver gladiator sandals and loose long blonde locks with trendy long bangs. "Flawless," Klum captioned the post, while tagging Adele.
The next video showed Klum lying down on a marble table, posing while grinning ear to ear. She placed the jacket next to her while she zoomed in on her sparkly heels and chunky silver rings. Adele's emotional "Easy on Me" played over the video as she waved her arm over her head.
Klum clearly seems to be a fan of fluffy lavender accessories. At the 2023 Golden Globes, she rocked a similar outfit and absolutely killed it. There, she had on a sparkly silver minidress with a turtleneck cutout while a purple feather boa was wrapped around her neck. She also had on some strappy, open-toed silver heels with matching toenail polish.
Accessories-wise, she had on silver rings with purple detailing, a long French manicure, and a bedazzled checkered clutch. When it comes to her makeup, she had on a neutral base with subtle purple eyeliner on her lower lash line to complement the color scheme. This time, her bangs were swept out of her face while she wore her hair to the side behind her shoulders.
Hubby Tom Kaulitz also accompanied her that night while sporting a streamline black tuxedo, and the two shared a sweet smooch  on the red carpet.
To see more of Heidi Klum, watch AGT: All-Stars Mondays at 8/7c on NBC and next day on Peacock.