NBC Insider Exclusive
Create a free profile to get unlimited access to exclusive show news, updates, and more!
Sign Up For Free to View
Heidi Klum Shared the Sweetest Kiss With Her Husband at the Golden Globes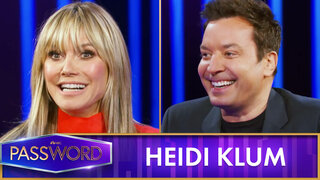 Heidi Klum and her husband, Tom Kaulitz, shared a sweet kiss on the 2023 Golden Globes red carpet. 
At the ceremony, the America's Got Talent Judge was decked out in a short silver sequined dress, while her hubby looked dashing in a streamlined black suit. There, they posed for the camera for some serious smooch action.
Klum and Kaulitz tied the knot in 2019. "He is the most amazing person," Klum said of her husband in January 2022 to She Knows. "A lot of people were, you know, not giving us the positive vibes when we first started dating because I'm 16 years older than him. But I feel like, there too, if it feels right when you close your door at home and you know what you have together, I think that is the most important thing."
"...You have to cut out all the noise around you. Not everyone is always cheering you on in all things that you do," she explained. "But I feel like you've got to do what makes you happy. And he made me happy. And we're still happy and having a great time together."
She added, "...I've always kind of gone into things like, 'Oh, yes! This is it!' And I feel like this is how you have to live your life. You can't already, in the beginning of something great, think, 'Oh, what might happen later down the road?'"
Klum is currently a Judge on America's Got Talent: All-Stars. The series features top previous Contestants from the Got Talent franchise returning and competing. It aired on January 2, 2023. Singer Sara James, a Season 17 fan favorite, performed during the January 9th show. 
"You are a star in the making, and I have so much respect for you for coming back," Klum told James after her performance (watch above). "I love your style. My daughter—who just turned 13—is a huge fans of yours. I'm almost 50 and a huge fan of yours. I think you're fantastic."
Watch AGT: All-Stars Mondays at 8/7c on NBC and next day on Peacock.