NBC Insider Exclusive
Create a free profile to get unlimited access to exclusive show news, updates, and more!
Sign Up For Free to View
This Recording of 13-Year-Old Blake Shelton Singing Proves He Was Always Talented
Emily Rhyne, a 22-year-old woman from Blake Shelton's hometown of Ada, Oklahoma, provided an audio tape from the country singer's past.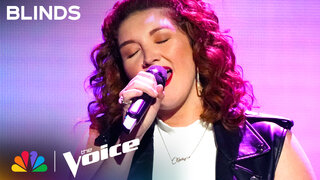 It's not unheard of for contestants on The Voice to come bearing gifts for the Coaches, but a recording of 13-year-old Blake Shelton singing a country song might be a first.
Back for its 23rd season, Shelton, along with longtime Coach Kelly Clarkson and newbies Chance the Rapper and Niall Horan, started with their backs turned to Emily Rhyne, who, like Shelton, is from Ada, Oklahoma.
"There've just been so many connections that have led me to Blake — now on his final season — to be able to say, 'Hey, I have followed in your footsteps, and I have the same dream,'" said the 22-year-old singer. "It's unreal."
Shelton, the only original Coach still on The Voice since it premiered in 2011, confirmed in October that Season 23 would be his final before retirement. Throughout the season premiere, the country singer reiterated as much, often as a means to try and lure some of the singers to join "Blake's Last Team," as printed on T-shirts Shelton gave to his new team members.    
Rhyne, wearing a pair of white Oklahoma-style cowgirl boots, performed a cover of "The First Cut is the Deepest," a single sung by many big-name singers, including Rod Stewart and Sheryl Crow. However, it wasn't enough for any of the four Coaches to push the buttons so their chairs could face her.
"I feel terrible," Shelton said once he learned Rhyne hailed from Ada.
Rhyne's sister then came from the side stage to bring two gifts for Shelton, the first of which was a T-shirt signed by local Ada musicians.
"My grandpa was a musician when Blake was 13 years old," Rhyne told the four Coaches. "He asked his mama, for his birthday, if he could go to the recording studio and lay down some tracks."
Shelton admitted, "This is true," as Clarkson sprinted from her seat to hear the recording in Rhyne's possession.
Rhyne added, "This is gonna change your life."
Coaches and audience members alike cheered when hearing Shelton sing the 1990 southern country-rock song "Dumas Walker" by The Kentucky Headhunters. Clarkson's mouth dropped when hearing the teen version of Shelton belt out the lyrics, to include, "Let's all go down to Dumas Walker. We'll get a slaw burger, fries, and a bottle of Ski. Bring it on out to my baby and me."
Shelton was delighted to hear the recording, and apologized for not letting Rhyne pass the Blind Audition.
"It was your last season here, so I had to go all out," said the contestant.
RELATED: Blake Shelton's Coach Rivals on The Voice Through the Years
Clarkson joked that Shelton's decision might prompt someone in his hometown to egg his house, and noted that contestants seemed to bring gifts on the occasions when Shelton opted out of turning his red chair to face the singers.
"Man, if I could ever go back in time, it would have been for Emily," Shelton said. "It just didn't move me enough, but knowing the backstory — if I had known it — I definitely would have hit my button. That's a heartbreaker for me."
Clarkson said hearing Shelton sing as a youngster was "cute," while Horan joked that even at 13, Shelton already sounded like a 45-year-old man.
"Hearing me perform when I was 13 just shows you that no matter how bad you suck, you can get there," Shelton continued.
"All I can say is that I hope no one from my hometown shows up," Horan quipped. "Too many stories."
The Voice airs Mondays at 8/7c and Tuesdays at 9/8c on NBC and is available for streaming the next day on Peacock.