NBC Insider Exclusive
Create a free profile to get unlimited access to exclusive show news, updates, and more!
Sign Up For Free to View
Does Perdita Weeks Do Her Own Stunts on Magnum P.I.? The Answer Is Complicated
Perdita Weeks has help bringing highly-skilled former spy Juliet Higgins to life.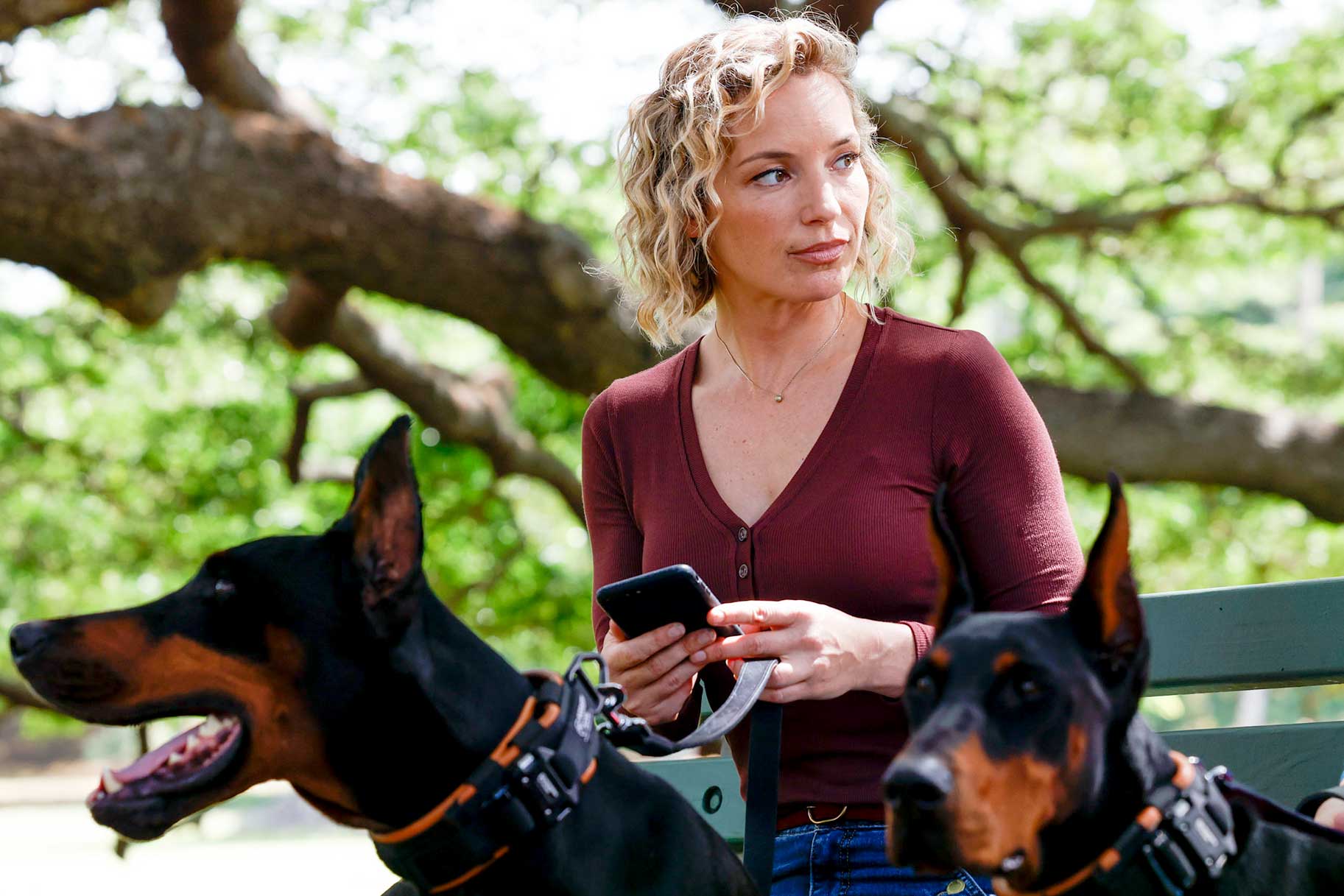 Magnum P.I.'s Juliet Higgins is a force to be reckoned with, taking down bad guys at a moment's notice with a blow to the gut or well-placed kick to the throat.
Relying on her past as a former MI-6 operative, Higgins' dizzying action scenes have become a regular — and beloved — part of the NBC crime drama. But does Perdita Weeks, who plays the complex, badass former spy, do her own stunts?
The answer, it seems, is complicated.
"Yes and no. We do any fight sequences — with the doubles also doing, so we don't have to do [it] too many times and risk injury," Weeks told NBC Insider.
And there are some moves producers just won't let Weeks do, even if she wanted to.
"They don't let me crash through things — tables, glass, etc," she said. "It takes approximately five women to make one Higgins."
It's clear, however, that Weeks is a big part of bringing the fight scenes to life.
For example, in the series pilot, Weeks did everything herself except backflip through a pane of glass because she "wasn't allowed to," according to a 2018 interview with CineMovie.
"I wanted to!" Weeks said.
The key to a well-timed fight scene, according to Weeks, is making sure to "rehearse enough times."
"I've done a lot of really physical roles. I really enjoy it. It's really fun," she said. "I mean I'm not properly trained in martial arts, just with friends and family. I have a very supportive family."  
Weeks also credited her "great team" that make her "look great" in the action-packed sequences.
RELATED: Perdita Weeks and Jay Hernandez Have *Thoughts* on Magnum and Higgins' Future
"I'm pleasantly surprised because when you read a stunt on a script its one sentence and then they fight," she told CineMovie. "You don't have any idea what it's going to look like until people bring you in, and then they say, and they give you the idea and it's like awesome and if you tell them that you enjoy doing it, they'll add more because for them it's their craft."
Weeks admitted that after signing on to play Higgins — the intelligent and highly proficient partner to private investigator Thomas Magnum — she realized the role would include more stunts than she had ever imagined.
But Weeks was just fine with that, calling the stunt work "really good fun."
"We have a great stunt team, and they just show you," she told CineMovie. "You just rehearse enough times and…it's just great fun. It's really just so much fun to play."
This season, Magnum P.I. is not only bringing new fight scenes, it's also introduced a new romantic dynamic for Magnum and Higgins.
"It's definitely a little steamy this year, purely by value of the two characters getting together and embarking on a new territory," Weeks told TVInsider.
Weeks told the outlet she was interested to see how the new dynamic plays out, particularly since Higgins is more "like a steel trap" while Magnum is more "heart led."
"He's the more natural romantic, I think," Weeks said.
To see where the relationship will take them — and Higgins take down more bad guys — tune in to Magnum P.I. Sundays at 9/8c on NBC or available streaming on Peacock the next day.