NBC Insider Exclusive
Create a free profile to get unlimited access to exclusive show news, updates, and more!
Sign Up For Free to View
Chris Meloni Hilariously Trolled Fans With This Post About His Wife
He is setting the record straight after that sky-high date caused fan "concern" (LOL).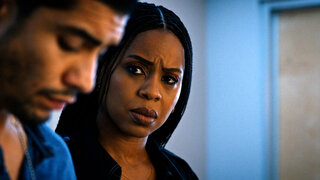 The marriage between Law & Order: Organized Crime's Christopher Meloni and his wife of 27 years, Sherman, is a whirlwind romance. And Meloni is providing some peace of mind to fans who were "worried" about the couple's Valentine's festivities. By this, we mean he totally trolled them. 
So, what's the cause for the "concern?" It started with Meloni's cheeky Instagram post from Valentine's Day with Sherman showing them on a sky-high date with a stunning view. The first pic of the slideshow shows the couple joyfully smiling, but in the next, Sherman is gone, and Meloni poses solo! "Me and my best gurl @sherman.meloni celebrate valentines high above the city and then one wrong step… but it was a great night," Meloni's caption teased. Naturally, the hilarious post led many fans to voice their (joking) concerns over whether or not Meloni's leading lady actually fell.
Instagram user @edgenyc commented on the funny post, "Officer, we were not a part of this plan 😂 We hope you both had an amazing time with us 🙌❤️"
Another comment from @meloniproject reads, "it's all fun and games until it becomes an organized crime 🤣."
Many other Law & Order fans commented a simple, "Dun dun" on the self-incriminating post. But at the end of the day, Meloni was keen to step in and update fans on his wife's stylish status.
"For all those expressing concern over @sherman.meloni welfare. She lives to dance another day #style," Meloni captioned a new Instagram video. In the clip, Sherman dances in an elevator while Meloni provides an improvised jazzy tune, and she smiles as she tips her hat. Don't worry: Sherman looks alive and well and ready to dance, everyone! Their Valentine's Day plans didn't end with disaster!
"It doesn't feel like 27 years. When the hell did that happen? It's her patience with me, and I really mean that," Meloni revealed to People in October 2022 about his marriage. "She's allowed me to grow at my speed because she's always been more mature and more levelheaded in many ways. She paints, and I go in her studio, and it just makes me happy. We have her work all over the house. She wants to buy art, and I'm like, 'I don't want that. I want yours.'"
Watch Law & Order: Organized Crime on NBC Thursdays at 10/9c and the next day on Peacock.