NBC Insider Exclusive
Create a free profile to get unlimited access to exclusive show news, updates, and more!
Sign Up For Free to View
Chris Meloni and His Wife Shared Epic Pics From Their Sky-High Valentine's Date
The two had a jaw-dropping celebration! Watch Law & Order: Organized Crime on NBC.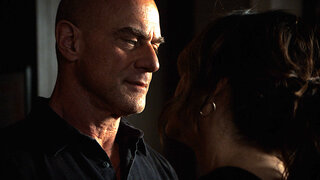 Chris Meloni shared the coolest (and funniest) pics with his wife on their Valentine's Day date. 
On February 14, the Law & Order: Organized Crime star took to his official Instagram page to make a lovingly hilarious post to celebrate his marriage with his wife, Sherman Williams.
In the first snapshot, the two grin at the camera while standing over a picturesque image of city lights during the night time. But then, for a twist in the second photo, Meloni stands in the same pose by himself.
"Me and my best gurl @sherman.meloni celebrate valentines high above the city and then one wrong step… but it was a great night," Meloni joked in the caption.
But don't worry: Williams is still alive and well. The two have been married for a whopping 27 years, and in an interview with Your Tango, she vividly remembers their first date.
"On our first date, we went to three parties, given by three sets of my friends," she recalled. "The first was in West Hollywood. Every guy there was gay. Chris passed with flying colors. Next, we went to a party given by Beverly Hills snootballs. Chris kept his manners in check and held his own. Then, we went to a costume designer's party in the Hills, where we drank beers from a tub on the porch. And I thought: I can take him anywhere."
There's no doubt that their relationship has been successful. "It doesn't feel like 27 years. When the hell did that happen?" Meloni revealed to People in October 2022. "It's her patience with me, and I really mean that. She's allowed me to grow at my speed because she's always been more mature and more levelheaded in many ways. She paints, and I go in her studio, and it just makes me happy. We have her work all over the house. She wants to buy art, and I'm like, 'I don't want that. I want yours.'"
The couple now have two children together. "I think my kids would call me a little crazy. I'm very physical, very affectionate. I'm also very disciplined and focused on education. That's one thing that was instilled in me, one place in life where there's no compromise," Meloni told USA Today about fatherhood. "What works for me is empowering my kids. I remember not having any power when I was growing up. Power helps kids mature, and it requires critical thinking on their part. They feel engaged in a decision, which makes them feel engaged in the family process."
Watch Law & Order: Organized Crime on NBC Thursdays at 10/9c and next day on Peacock.