NBC Insider Exclusive
Create a free profile to get unlimited access to exclusive show news, updates, and more!
Sign Up For Free to View
Marina Squerciati Shares Sweet Burzek Family Selfie While Filming P.D.'s 200th Episode
Some family fun for fans!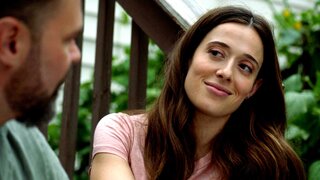 Chicago P.D's Marina Squerciati (Kim Burgess) shared the most adorable post to her official Instagram page to celebrate filming the show's 200th episode. 
In the selfie, she's seen smiling with her hair in a comfy, loose ponytail. Patrick John Flueger (Adam Ruzek) stands behind her with a sly smile on his face, while their on-screen daughter, Ramona Edith Williams (Makayla Burgess), stands in front of them, grinning ear to ear.
"Filming the 200th episode right now, but we hope you're all watching #ChicagoPD TONIGHT! #burzekorbust #burzekarmy #burzek #paddyflueger #mybuddy #lovemycrew #onechicago #chihards #wolfpack @wolfentertainment" Squerciati captioned the post enthusiastically, honoring the family fun.
Flueger recently gave some details to NBC Insider about the relationship between Burgess and Ruzek.
"She just moved in. She just kind of gave him some rope in an area that I think he's been hoping and praying for," he explained. "And I think you're gonna be hard-pressed, unless it's a life or death situation, to see him push her too hard."
He continued, "He has a mad amount of respect for how hard she works at everything. I don't think you would ever in this moment see him get out in front of her or try and guide her, as much as just be there for the trust fall. Be there to say, 'Look, if you need anything, I'm here for you.' But also just to remind her as somebody that loves her dearly, whatever she may or may not be going through is OK. If she's dealing with it, that's OK." 
In another interview with NBC Insider, Flueger explained his feelings about having Jesse Lee Soffer direct an episode of the show. "He's got incredible ideas, he's able to offer them to actors and to the writers and to camera people in a way that displays diplomacy that I think you have to have when you're directing TV that maybe you don't have to have when you're directing movies," Flueger said. "I just think he's got that in spades. He's just got a way of getting what he wants, when he really wants it, and when he knows it's right. But also offering those suggestions and those opinions in such a way that it doesn't put people off."
Watch Chicago P.D. on NBC Wednesdays at 10/9c and next day on Peacock.