NBC Insider Exclusive
Create a free profile to get unlimited access to exclusive show news, updates, and more!
Sign Up For Free to View
Chance the Rapper Had an Adorable Date with His Daughters to See The Little Mermaid
Some much-needed father-daughter time!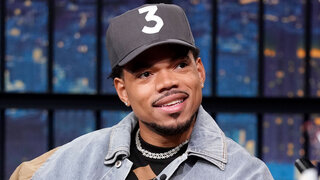 Chance the Rapper had a cute date with his daughters this weekend! 
On June 11, Chance shared some sweet footage of himself getting his adorable daughters, Kensli and Marli, excited to go see The Little Mermaid live-action movie. In the heartwarming first clip, Chance asked Marli to press a button on her conch necklace, and she began to sing along to its sound. (Looks like she's taking after her dad's vocal talents already!)
"She's literally perfect I can't take it," Chance wrote on the video, followed by some eyes-watering emojis.
We then catch a glimpse of Kensli throwing up a peace sign while standing next to her sister, and then, per their father's request, they shouted "Little Mermaid!" at the top of their lungs together with glee.  
"Finally going to see The Little Mermaid," Chance eagerly captioned the post. 
Chance recently wrapped up Season 23 of The Voice as a brand new Coach, and in an interview with Access Daily, he revealed that his daughters are fans of the show themselves. 
"They like it; they don't like me having to go to work, I think. They get a little upset about that, but they like the show," he said. "They watched the live [Semi-Final] the other day and my daughter just got, like, a little watch phone, so she kept calling me in between and I'm like, 'It's live, I'm literally here right now.'" 
"But I think, they're both into music a lot, so they like the idea of, you know, seeing me on stage with a bunch of singers," he added.
During a recent appearance on Late Night with Seth Meyers, Chance also disclosed the type of music his daughters have taken an interest in at their early ages. 
"Yeah, they do like my music. They're more into, like, Peppa Pig, and their contemporaries," Chance told Meyers with a chuckle. "But, like, I have a few songs that they'll listen to. They like a song called 'Let's Go on the Run' a lot." 
"Do you ever think, I mean, in a desperate attempt to gain their affection, would you do a collaboration with Peppa [Pig]?" Meyers asked Chance.
"Out of my own desperation, I'd do a collaboration with Peppa," Chance responded without missing a beat. "Like Peppa, if you're listening right now, like, I'm trying to work, or at least get some autographs for my kids. Shout out to Peppa Pig!"