NBC Insider Exclusive
Create a free profile to get unlimited access to exclusive show news, updates, and more!
Sign Up For Free to View
Chance the Rapper Had a Hilarious Stage Name Before Picking His Current One
It dates all the way back to his middle school days!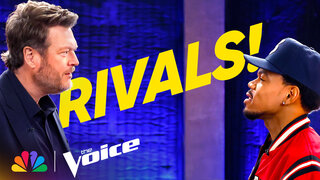 Chance the Rapper's meta stage name works for him perfectly. However, according to an interview with the Voice Coach on Late Night with Seth Meyers, he originally had a completely different professional moniker. 
"Chance the Rapper, first of all, it's a great name because it's very on the nose. No confusion about it," Hot Seth Meyers complimented the "Cocoa Butter Kisses" Artist. "But I imagine you had some other options early on." 
"I had a name when I was in eighth grade. I went by Tony Jizzle," Chance answered with a chuckle. 
"Maybe a wise choice to say goodbye to Mr. Jizzle," an amused Meyers responded. 
"No, I'm glad that part of my life is over with," Chance said as the audience laughed. "Very much so an eighth grade kind of name." 
Chance did not disclose how the funny middle school pseudonym came to be or why he changed it, but we can honestly say that "Chance the Rapper" suits him quite well.
Meanwhile, Chance's birth name is Chancellor Johnathan Bennet. In an interview with GQ, he explained the origins of why he chose to go by "Chance the Rapper" for his musical pursuits. 
"My dad used to always say, 'You need to change your name to Chance the Artist,'" he told the outlet. "I remember one day I was with Justin — my best friend, who has always been really good at school, really smart, really good at speaking to people. I remember my dad would introduce us to folks and they would ask, 'What're you going to be when you grow up?' Justin's f*****g 7 years old talking about, 'I'm going to be a biomedical engineer.' You know, he's just that guy. And I remember they asked me, and I said a rapper. And my dad laughed it off, like, 'No, he doesn't…' You know?"
He continued, "I wanted everybody to feel that way about the word 'rapper.' And 'rapper,' to me, is pretty much synonymous with the word 'Black.' It's a stigma where it's like, 'Damn, I heard Chance the Rapper. I didn't think he was going to sound like that.' I hate that when you introduce yourself, and you're a rapper, sometimes you gotta say, 'I'm a musician.'Or, 'I'm an Artist. I'm a recording Artist. I'm a vocalist.'"