NBC Insider Exclusive
Create a free profile to get unlimited access to exclusive show news, updates, and more!
Sign Up For Free to View
Find Out Who Just Won America's Got Talent 2023!
Congrats to the lucky winners of $1 million and a Vegas residency.
After a season filled with with emotional auditions, unforgettable Golden Buzzers, and heartbreaking eliminations, we finally have a winner of America's Got Talent 18. Read ahead for spoilers...
Who won AGT 18?
At the end of September 27's Live Finale, Host Terry Crews announced that Adrian Stoica and Hurricane are the winners of AGT 2023, taking home $1 million and a spot at the show's Vegas residency.
Magician Anna DeGuzman came in second place. The trainer and his brilliant Border Collie are the second-ever dog tricks Act to win the show since Olate Dogs took home the title in 2012 during Season 7.
Their victory comes after they pulled off a charming Final Act which Stoica described as a "Hollywood love story, like Lady and the Tramp" to NBC Insider. During the performance, Hurricane helped Stoica put together a romantic date that turned out to be for himself and Sofia Vergara, who didn't know she'd be involved with Act until the Live Show.
RELATED: Who Won America's Got Talent — and Where Are They Now?
"My journey on AGT, it's so exciting," Stoica said during the September 26 Finale episode. "We don't search for perfection, we search to have a good time, and do what we love together."
In celebration of their victory, let's look back at Stoica and Hurricane's AGT journey this season, from their audition to the Finals:
Adrian Stoica and Hurricane's audition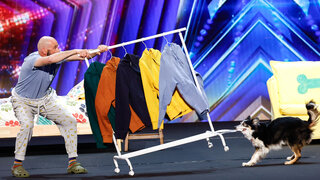 During their AGT debut the Border Collie and her trainer first charmed the Judges with a fantastic Act that saw Hurricane help a sleepy, stumbling Stoica through his morning routine. 
Adrian Stoica and Hurricane's Live Show performance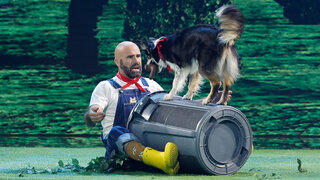 For their second AGT skit, Stoica attempted to try his hand at landscaping, but an adorably mischievous Hurricane kept getting in the way.
"I loved it, and this is the type of hurricane that we like here in Hollywood," Heidi Klum said. "It is mind blowing to me how you do this routine with [her]. You don't give [her] treats, [she] knows this entire routine. It's mind blowing. Amazing."
Adrian Stoica and Hurricane's Final Act
Before their performance, Stoica revealed that his other dog Rory died just 10 days after his Live Show performance. However, the tragic loss inspired him and Hurricane to push forward in the competition.
"She was the mentor of Hurricane, so without Rory it's very hard because it's a piece of your heart," he said. "It was her sister. Hurricane help me a lot during this difficult time because she knows my emotion. She stays with me. After losing Rory I realize life is short, you need to chase your dreams. Our dog is to make a dog musical show, and this is our chance to make the dream come true."
The Judges couldn't get enough of Hurricane's intelligence and professionalism.
"That was bow wow. I've been here myself for 14 years, and we've seen many people come up and show us a dog Act. We have rarely seen a dog show up and show us a man Act," Howie Mandel joked.
Heidi Klum added, "Hurricane is adorable, the smartest dog I've ever seen."
Vergara volunteered to be apart of the Act any time and called the pair "fantastic," while Simon Cowell called it "incredible."
"Sometimes with these dog Acts you kind of feel they're holding out something, or whatever. But it was like the dog was acting and performing."
So, does Stoica have any tips for your furry friend to be just as talented as Hurricane?
"Have fun with them," he tells us. "Share the same passion with your dogs."