NBC Insider Exclusive
Create a free profile to get unlimited access to exclusive show news, updates, and more!
Sign Up For Free to View
Watch Quinta Brunson Flex Her Comedic Brilliance in the April Fool's SNL Episode
SNL returned with comedy powerhouse Brunson, and it was a grand-slam of a debut.
First-time Host Quinta Brunson delivered a dynamite performance during the April 1 episode of Saturday Night Live.
The Abbott Elementary creator and star took to Studio 8H like a seasoned vet for a hilarious night packed with great sketches. Joined by fellow SNL first-timer, musical guest Lil Yachty, Brunson brought a refreshing hilarity to the comedy showcase after its two-week hiatus. And Brunson's punchlines and magnetic comic energy were no April Fool's joke. She's the real deal and delivered non-stop hits alongside the SNL cast. 
Watch all the sketches from the hilarious April Fool's SNL episode, below. 
Quinta Brunson's Opening Monologue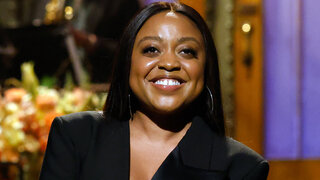 Brunson blew the crowd away from the get-go during her hilarious SNL opening monologue when she chatted about her smash show Abbott Elementary and how it led her to brush shoulders with legends like Oprah Winfrey and former President Barack Obama. Brunson has a cemented stance in the comedy world, and with her SNL debut secured, she crossed off yet another career milestone.
"Midwife"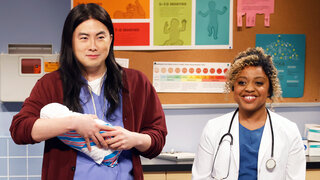 Brunson and SNL fan favorite Bowen Yang had the audience in stitches in this ridiculous soap opera plot about a doctor and midwife having a series of awkward interactions in the delivery room. 
"Bridesmaid Cult Documentary"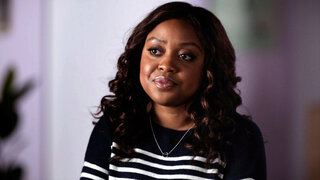 In this hilarious tell-all documentary, SNL poked fun at the harrowing experience of being a bridesmaid and all  the theatrics that it demands. From Nashville catfights to exorbitant dress prices for an outfit you'll only wear once, SNL didn't hold back in detailing the horrific bridal party experience. It could happen to anyone! 
"Drug Dealer"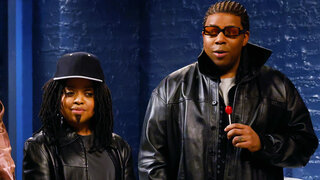 Brunson, Kenan Thompson, Punkie Johnson, and Marcello Hernández play competing drug dealers giving their respective pitches in a nightclub bathroom when two vacationing men express interest. They just want something "pure," which inspires the drug dealers to get creative with the descriptions of their products.
"Street Eats"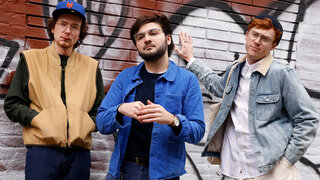 In Please Don't Destroy's latest digital short, the three men transformed themselves into a deplorable group of YouTubers that go around NYC reviewing street food. Their ridiculous antics and performative nonsense get them some mighty glares from the restaurant employees, and it makes for a spot-on spoof of insufferable influencers. 
"Couple Goals"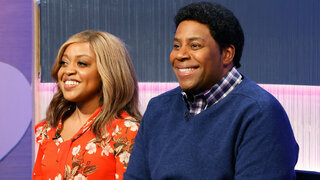 SNL always nails the game show sketches, as proven by this hilarious sketch. Two couples answer a series of simple questions, but things go off the rails once a husband reveals that his biggest fear is that his wife will suffer a tragic fall that causes him to quit his job and take care of her for the rest of their lives. Hyper-specific fear? Definitely! Hilariously relatable? Absolutely.
"Traffic Altercation"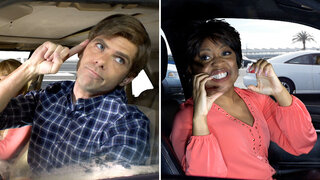 Traffic sucks, especially when someone cuts you off. Brunson and Mikey Day play two drivers that get into an argument while stuck in traffic who are forced to resort to pantomimed hand signals to communicate with each other. While the punchline is mostly physical in this sketch, the hilarious twist ending could fool anyone!
"Bosses"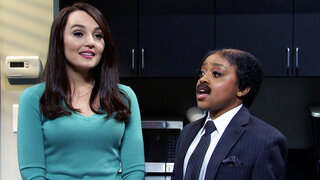 Everyone's first day on the job can be tough, but for one woman, it becomes positively hellish when two of her bosses (Brunson and Sarah Sherman) needlessly harass her for her looks. The two women play the two horrid men like Looney Tunes characters, and it makes for some next-level ridiculousness. 
How can I watch classic Saturday Night Live sketches? 
NBC.com is a great place to start. See below: 
Watch Saturday Night Live Saturdays at 11:30/10:30c on NBC and stream the next day on Peacock.