NBC Insider Exclusive
Create a free profile to get unlimited access to exclusive show news, updates, and more!
Sign Up For Free to View
SNL's 'Tommy' Digital Short Featuring Host Brendan Gleeson Is Too Good
SNL's Please Don't Destroy has nailed it, yet again.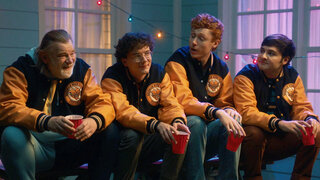 While most of the sketches on Saturday Night Live take place live from New York, the pre-recorded digital shorts are equally as hilarious. 
Please Don't Destroy, SNL's viral comedy trio, has created a catalog of hysterical sketches, and they hit every punchline possible in their latest digital short, "Tommy" featuring Host Brendan Gleeson. 
SNL's digital shorts are always a highly-anticipated segment, with the "Tommy" sketch proving that sometimes the most successful jokes are the simplest ones. The premise: Four high school juniors reflect on their upcoming senior year, excited about college applications and a new school year on the horizon. "Look at us, growing up!" one of them says.
Related: Watch All the Hilarious Sketches from Brendan Gleeson's Episode of SNL
The twist: Their excitement for the future comes to a grinding halt when one of the four, Tommy (Gleeson), comes clean and "shockingly" reveals that he is actually a 67-year-old Irishman. "Remember when I told you I was 17?" Gleeson asks the high school students. "I'm 67."
The punchline of the sketch is hilarious, as Gleeson is in no age-defying makeup. And yet his high school companions are completely flabbergasted by the confession. "No....you're 17," one insists. "You're from New Jersey? Your name is Tommy Porkchop Putiano?"
In reality, "Tommy" is a 67-year-old man named Seamus O'Sullivan wearing a varsity jacket who "watched Gossip Girl" and decided to re-enroll in high school for fun. But still, his three friends are thrown through a loop as they go through all the signs of Tommy's hidden identity they missed throughout the years. And there were many signs. 
They recall skipping class to drink beers but suddenly remember that Tommy opted out of the crappy beer to drink "a glass of whiskey with a big square ice cube" instead. When they argue that "Porkchop" was the craziest kid in school for taking drugs during class, Tommy reveals that the pills were only blood thinners. It all clicks when they realize that "all those times after gym class when we were nervously changing, you were...were...completely comfortable with being a-- nude."
"That's just the way old fellas are!" Tommy admits. Tommy reveals he has a wife and many children but insists that all of their great memories from high school were genuine (even if he spent too much time with John's mom after his dad passed away...). Tommy may be a 67-year-old Irishman seeking youthful experiences, but the group's friendship is real. 
Tommy decides to stay for their senior year, with the sketch ending with a spot-on Perks of Being a Wallflower montage of the high school students driving down a highway without a care in the world. Needless to say, Gleeson hilariously puts the "senior" in senior year in this laugh-packed SNL digital short.
Watch Saturday Night Live Saturdays at 11:30/10:30c on NBC and the next day on Peacock.