NBC Insider Exclusive
Create a free profile to get unlimited access to exclusive show news, updates, and more!
Sign Up For Free to View
Brendan Gleeson on His SNL Hosting Debut: 'It's Been Fantastic!'
"The stage gave me goosebumps."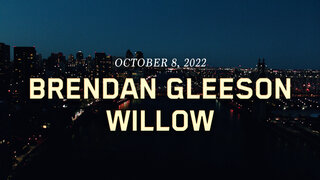 Saturday Night Live Season 48, Episode 2 will feature Brendan Gleeson as Hot and musical guest Willow. Gleeson spoke to NBC's Mark Barger about his upcoming hosting debut and his new film, The Banshees of Inisherin. Read on for details. 
Mark Barger: You've done theater, TV, and movies in your career. How unique is it for you to do a show like SNL?
Brendan Gleeson: It's all of those combined in one, really. The stage gave me goosebumps.
What do you make of what you've seen of this whole atmosphere so far this week?
Fantastically collaborative is the thing and very supportive in a way that's very, very refreshing.  So, it's been fantastic!
Your Banshees co-star Colin Farrell hosted SNL a number of years ago. Did you reach out to him, or anyone else for that matter, for advice or guidance on hosting the show?
I did. He was kinda pushing me to do it.  He said he had a ball when he was here, so he wasn't wrong.
There's a ton of critical buzz about your new film, The Banshees of Inisherin. How much fun was it making such a dark comedy?
A lot of fun.  Mixed-up fun.  We were in a beautiful place with people that we love, so that made it exciting in a way that was kind of unusual.
What level of nervousness do you anticipate for Saturday night?
 I don't need to anticipate any level of nervousness, because I'm already there.  Trauma, I would call it.
Watch Saturday Night Live on NBC Saturdays at 11:30/10:30c and next day on Peacock.