NBC Insider Exclusive
Create a free profile to get unlimited access to exclusive show news, updates, and more!
Sign Up For Free to View
Inside Violinist Philip Bowen's Unexpected and Emotional Audition
"This is the place you're supposed to be," Sofia Vergara said.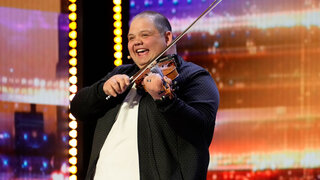 Season 18 of America's Got Talent has already kicked off with some amazing Auditions, and violinist Philip Bowen was no exception. 
When he first took the stage, Bowen revealed that he currently lives in Detroit and works as a project manager. However, his true passion is music, more specifically, the violin. Bowen said he got inspired to play the instrument at the age of 4 when he saw his now "hero" Itzhak Perlman (who happens to be Judge Howie Mandel's cousin) perform on Sesame Street. Bowen then asked his mother for violin lessons, and the rest is history. 
Speaking of Bowen's mother, he revealed that she is a huge fan of Judge Simon Cowell. "In fact, when I would play sometimes at home and things, she'd be like: 'You know who would love that? Simon,'" he said after his mother stood up in the audience, supporting her son. 
Now Bowen has three children of his own and said that his goal of coming on AGT was to teach his kids that it is "never too late to chase down a dream." 
When it was time for Bowen's performance, he plated some impressive notes in rapid succession before a heavy drum beat dropped. Then, audiences could hear that he was putting his own unique twist to the metal song "Chop Suey" by System of a Down. The audience clapped along to the fast rhythm while Bowen totally immersed himself in the music, somehow not missing a single note. He played the melody to the vocals before slowing down during the bridge, showing off his versatility, then promptly picked the intensity back up again. 
Naturally, the crowd went wild while all four Judges gave Bowen a standing ovation, which made him tear up. And much to Bowen's mother's expectations, Cowell was blown away.
"When I was a little kid I would be practicing my violin in my room, and I would look at myself in the mirror, and I'd say 'The crowd goes wild, ahhh!'" Bowen said. "And to have the crowd actually go wild..."
"I mean, I just wasn't expecting that. You are so talented. You have so much charisma. I mean, you could feel the energy in here. They love you. You will make your mom and dad so proud after that performance. That was a great audition," Cowell told Bowen.
"I mean, I was like crying a little bit," Judge Sofia Vergara added. "Cause I see how important this is for you. And that's why it is so special, this show, because it makes people like you have this moment, it might even change your life because this is the place you're supposed to be," she said before Bowen received a resounding "yes" from all four Judges.