NBC Insider Exclusive
Create a free profile to get unlimited access to exclusive show news, updates, and more!
Sign Up For Free to View
Meet the Cast of Trolls Band Together
The Trolls are back in Trolls Band Together for another adventure that will get everyone from the old movies back once again.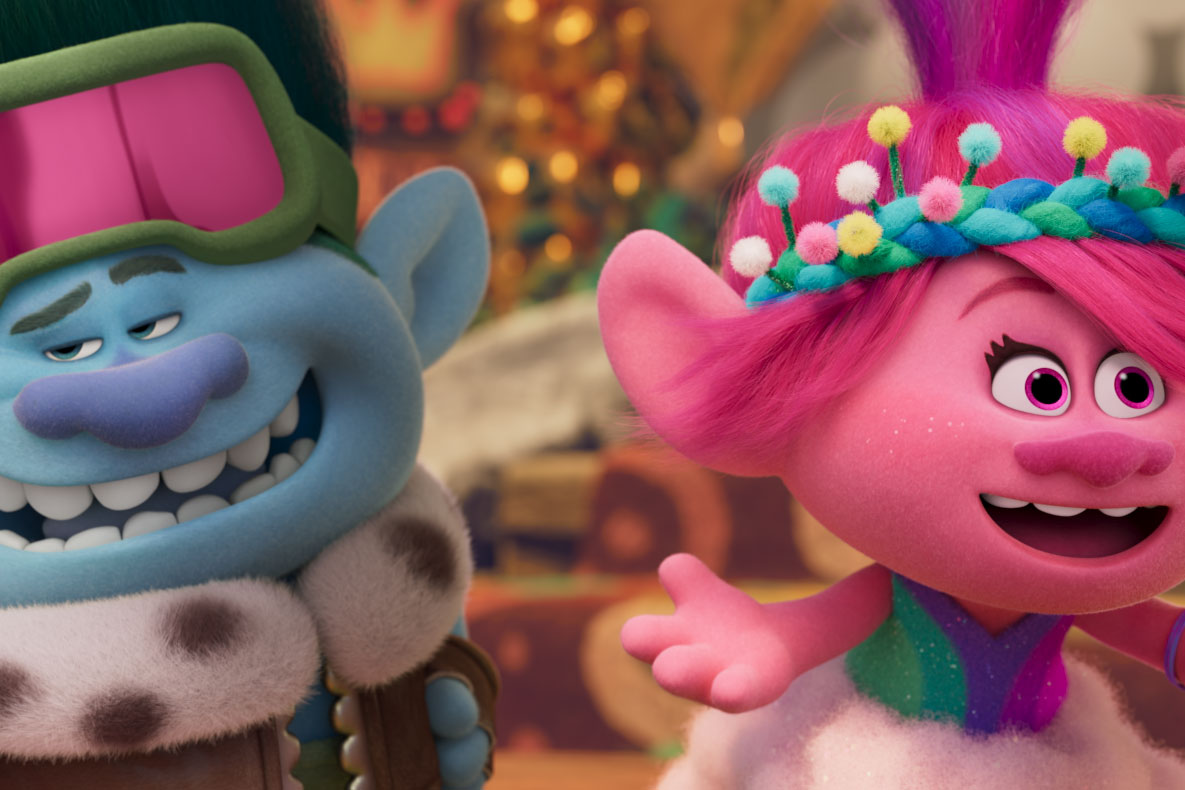 The new Trolls movie, Trolls Band Together, is filled with reunions and action-packed, all-star, rainbow-colored adventures. The holiday film stars Anna Kendrick and Justin Timberlake as they return for the new chapter in DreamWorks Animation's blockbuster musical franchise: Trolls Band Together. 
The third installment of the Trolls franchise follows Poppy (Anna Kendrick) and Branch (Timberlake) who are officially a couple. As they grow closer, Poppy finds out that Branch has a secret he's been keeping, he was once part of the boy band BroZone with his four brothers. BroZone disbanded when Branch was still a baby, as did the family, and Branch hasn't seen his brothers since. But when Floyd is kidnapped for his musical talents by a pair of pop-star villains— Velvet (Emmy-winner Amy Schumer) and Veneer (Grammy-winner and Tony nominee Andrew Rannells)— Branch and Poppy embark on a harrowing and emotional journey to reunite the other brothers and rescue Floyd from a fate even worse than pop-culture obscurity.  
RELATED: DreamWorks & CAMP Partner for Immersive Experience to Celebrate Trolls Band Together Release
The film features a star-studded cast of returning favorites and exciting newcomers. Here are some of the main voice actors.
Justin Timberlake as Branch
Singer, songwriter and producer Justin Timberlake returns to voice Branch, and unlike the others, he is the only troll in the village who doesn't sing, dance, or hug. In addition to voicing Branch, he has served as executive music producer on all of the franchise's movies. Back in 2020, Timberlake said during an Apple Music takeover that he hopes they make "seven Trolls movies because it literally is the gift that keeps on giving." 
Timberlake is a 10-time Grammy Award-winning artist. He started his career as a Mouseketeer on The All-New Mickey Mouse Club, but he rose to fame in the boy band group *NSYNC before venturing out on a solo career. *NSYNC actually reunited for a new song in Trolls Band Together, for the single "Better Place," and it's the boy band's first song together in 20 years. Timberlake has also worked as an actor in films like The Social Network, Friends with Benefits, and Shrek the Third. 
Anna Kendrick as Poppy
Actress Anna Kendrick is reprising her role as Poppy, an upbeat responsible pink troll who also appeared in both 2016's Trolls and 2020's Trolls World Tour. Her boyfriend is Branch. For her role as "Dinah" in High Society on Broadway, Kendrick was nominated for a Tony Award. She is perhaps best known for her role as Beca in the Pitch Perfect films. She has also starred in films such as A Simple Favor, Up in the Air, and the Twilight franchise. 
Christopher Mintz-Plasse as Gristle Jr. 
Christopher Mintz-Plasse is reprising his troll role from the first and second installments. Gristle is a plump green-skinned creature that is the King of the Bergen Monsters. Mintz-Plasse famously made his film debut as Fogell in 2007's Superbad. He has also starred in Role Models, Kick-Ass, and its 2013 sequel as well as Pitch Perfect, and the How to Train Your Dragon franchise.
Kenan Thompson as Tiny Diamond
Actor-comedian Kenan Thompson returns to voice the role of Tiny Diamond after his debut in Trolls World Tour. Tiny's personality is anything but tiny. He's known for his silver sparkling skin and metallic hair and giant yellow lenses. Thompson is known for his tenure on NBC's Saturday Night Live. He's also starred in titles such as All That, Kenan & Kel, Good Burger, and The Mighty Ducks franchise. 
Anderson .Paak as Prince Darnell 
Anderson .Paak is back after first appearing in Trolls World Tour. Prince Darnell, known as D, is a twin and son of King Quincy. He has a taste for both funk and hip-hop music. Anderson .Paak is a singer and musician who won his first Grammy Award for best rap in 2019 and two more at the 2020 ceremony. In 2021, he formed the duo Silk Sonic with artist Bruno Mars, winning four more Grammys. 
Zooey Deschanel as Bridget 
Actress Zooey Deschanel is returning to Trolls to voice the character Bridget, also known as Lady Glittersparkles. She embodies the spirit of a 1970s diva. Deschanel is known for her roles across television and film. She earned an Emmy nod and three Golden Globe nominations for her role on the show New Girl. She has also starred in films including The Good Girl, 500 Days of Summer, Elf, and Almost Famous. She currently stars in the Apple TV show Physical. 
Aino Jawo and Caroline Hjelt as Satin and Chenille
Aino Jawo and Caroline Hjelt of Icona Pop are returning as Satin and Chenille, respectively. These fashion-forward conjoined twins aren't identical, but one twin wears her dress upside down. Jawo and Hjelt are widely known for their musical careers as Swedish electro-pop duo Icona Pop. Perhaps their biggest song is their multi-platinum hit "I Love It."
Ron Funches as Cooper
Comedian Ron Funches returns as Cooper, reprising his role from both installments. Also known as Prince Cooper, he's the twin of Prince D. Cooper looks different from other trolls because of his four blue legs, and hair that doesn't stick straight up like the other trolls. In addition to the Trolls franchise, Funches has appeared in several projects including Undatable, Black-ish, 80 for Brady, and DC Comics series Harley Quinn. 
Kunal Nayyar as Guy Diamond
Kunal Nayyar returns as Guy Diamond in Trolls 3 after appearing in the first two movies. Guy Diamond is one of Poppy's best friends. Nayyar is also known for playing Raj Koothrappali on CBS's sitcom, The Big Bang Theory. The British actor has also appeared in Nickelodeon's Sanjay and Craig, Ice Age: Continental Drift and The Scribbler.
Trolls Band Together premieres in theaters Nov. 17.