NBC Insider Exclusive
Create a free profile to get unlimited access to exclusive show news, updates, and more!
Sign Up For Free to View
Kenan Thompson and Kel Mitchell Reunite for SNL Sketch With Keke Palmer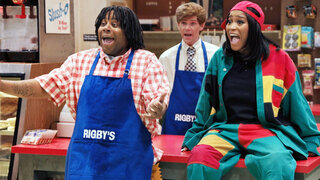 All aboard the nostalgia bus! On December 3, Keke Palmer, Kenan Thompson, and Kel Mitchell teamed up on Saturday Night Live to deliver a hilarious sketch about the '90s Nickelodeon sitcom Kenan & Kel! However, their revival may not be exactly what you remembered about the show.
The skit depicted a revamped version of Kenan & Kel starring Keke Palmer and Thompson, aptly named Kenan & Kelly. In one comical moment, Palmer's character decided to replace Kel's signature catchphrase of "Awh, here it goes" with "Uh-oh, here comes the bus!" despite the absence of said vehicle.
Palmer then decided to take the lighthearted nature of the original Kenan & Kel down a more serious route when she intensely told Thompson that she is pregnant with his child. "Keke was gunning for an Emmy Award, so she wanted to bring dramatic moments in. I thought: 'That won't work,' and I was right," Thompson told the cameras during the sketch in a mock documentary-style bit.
Palmer then went on to perform an emotional monologue about her childhood while suspenseful music played in the background. "Uh-oh, here comes the bus!" she recited in tears despite, again, no bus in sight. 
"I think we have a tone issue," Thompson commented. "But people seemed excited about it."
And just when you think things couldn't get any better, Kel Mitchell himself made an appearance, reprising his former orange soda-loving character! But after he gets immediately shot by a robber, Palmer humorously declared that he is the true father of her baby.
"The show is…not good," Thompson said.
Watch Saturday Night Live on NBC Saturdays at 11:30/10:30c and next day on Peacock.