NBC Insider Exclusive
Create a free profile to get unlimited access to exclusive show news, updates, and more!
Sign Up For Free to View
Keke Palmer on Her SNL Hosting Debut: 'It's Just About Owning My Space'
"I'm just excited at the idea of walking on that stage and standing in the spot where so many have come before me," she said.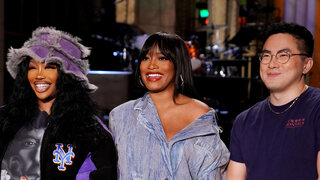 The December 3, 2022 episode of Saturday Night Live will be hosted by Keke Palmer. Ahead of the big night, she chatted with NBC's Mark Barger about her feelings being a first-time Host and dished on other recent projects. Read on! 
NBC's Mark Barger: In a year where you've had a hit movie and a hit TV show, is hosting SNL a really big cherry on top of your 2022 sundae?
Keke Palmer: I dreamed of getting the opportunity to host SNL, so for it to be happening amongst all the other crazy things that have happened this year that I'm so grateful for, I think it's honestly like God's just showing out!
What excites you most about this opportunity?
I think it's what SNL stands for.  Obviously, the history of it all. Just all the great sketches and comedians you've seen that have walked this stage.  And then the fact that you get to be around other people that are in to the same things you do. I love doing sketch. I love comedy. I love playing around, I love collaborating. And that's everything that the show is about. To meet all the cast members and the writers and get to have fun with them is the most exciting thing about the experience.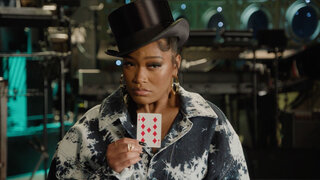 How crazy has the prep work been so far this week?
The prep work is as intense as you would expect it to be. I think, in my mind, the closest thing I can liken it to would be like a multi-cam sitcom. Rehearsing up to the day and doing the rewrites and readings and making sure everything's right and getting it perfect. That is the closest thing I can liken it to. It's kind of like that mix between TV and Broadway. I think that's the fun thing about it. The audience, when they get into it, it's going to be even more fun.
Have you played in your mind what it's going to be like walking out for your opening monologue? Are you nervous about it?
I'm excited about it. It's just so exciting, again, [to have] the opportunity to just "do" this! I'm just excited at the idea of walking on that stage and standing in the spot where so many have come before me and have stood and talked. I think, for me, it's just about owning my space and bringing Keke Palmer to the show.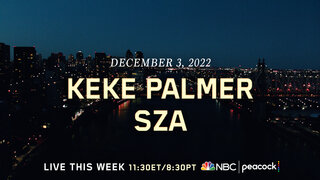 You're in the building with your Password pal, Jimmy Fallon. How much fun was hosting that show, especially considering the great reaction it got?
First of all, Jimmy's a Virgo.  I'm a Virgo. What more needs to be said? That's why I love working with Jimmy.  He's so professional, so much fun.  He's just one of the greatest people I've worked with.  And I love that we got to hang out all the time. And then Password's such a fun game.  So, again, you're going to work and you get to give people money so they can go and do things that they want to do and you get to have fun, and you get to play. It just, to me, was one of the best gigs, so I hope we do it again.
How gratifying was the response you got for Nope?
First of all, I love Jordan [Peele], I love Daniel [Kaluuya], I love all the people that I worked with on Nope and just to see that people went to the theaters and saw it.  An original screenplay is so rare these days, and it's also so rare for people to go to the movies in general, which pains me. That's a story for another day. So the fact that I got to be in something that people were so excited to go see enough to go to the theaters and watch it and get the actual cinematic experience that it was made for, it's just awesome. That's what you want. I wanted that for Jordan, and I was glad to be a part of it myself.
Watch Saturday Night Live on NBC Saturdays at 11:30/10:30c and next day on Peacock.