NBC Insider Exclusive
Create a free profile to get unlimited access to exclusive show news, updates, and more!
Sign Up For Free to View
The This Is Us Creator Explains Why He Wanted Rebecca to Be Waiting for Kate
"I've always been so enamored with the relationship between Kate and Rebecca," show creator Dan Fogelman says.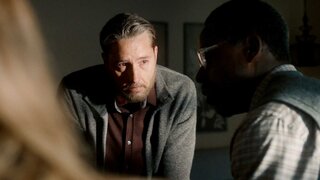 The This Is Us penultimate episode, in which Rebecca (Mandy Moore) passed away after a years-long battle with Alzheimer's, was heart-wrenching. The final hours of the Pearson matriarch's life were illustrated with a train. A young Rebecca was on the train, and she moved closer and closer to the caboose, where she'd have her final rest. But before she could do that, she needed to wait on one person to wish her off: Kate (Chrissy Metz).
In real life, Kate's in London and rushing back to the States to say goodbye to her mother. Ultimately, we find out Rebecca holds on just in time to have a moment with her daughter. 
It was an emotional moment. And in an interview with People, show creator Dan Fogelman explained why he wanted Rebecca to be waiting for Rebecca in the very end.  
"I've always been so enamored with the relationship between Kate and Rebecca, this mother-daughter dynamic that is equal parts fraught and complicated, and in the later years of their lives, really incredibly beautiful and simple," Fogelman said. "I always thought Kate would have to race to get there in time, because she has taken the steps in her life, based off the advice from her mother, to spread her wings and fly. That very advice has taken her out of the room when her mother is about to pass. I thought that was just a really simple story that doesn't even need to be spoken about to see it. She's off doing something big and fantastic and fabulous that was spurred on by her mother's 'Go live your life to the fullest' speech, and now that very thing may prevent her from being at her mother's bedside as she passes. And then the fact that in our story, her mother is able to hold on until she gets there, it felt like a full-circle realization of their entire relationship." 
As for why we didn't get to see everyone's goodbyes to Rebecca — only a few were shown — Fogelman says, "I just realized it was going to create a giant mess for me of what to put into the television show. So we chose a couple of targeted people." 
Where to watch This Is Us 
Watch every episode of This Is Us on NBC.com. Also: Relive some of the show's best moments here on NBC's This Is Us: The Final Chapter digital experience.