NBC Insider Exclusive
Create a free profile to get unlimited access to exclusive show news, updates, and more!
Sign Up For Free to View
Chrissy Metz Teases What She'd Love to See In a This Is Us Reunion Show
While the actress says it's "too raw" at the moment, there are plenty of storylines to explore down the road.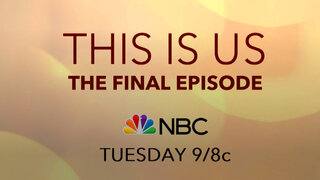 Could we see the Pearsons on our TV screens sooner than we think? If it's up to Chrissy Metz, an on-screen reunion could be around the corner—or in a decade.
During a recent interview on TODAY, the This Is Us star said that she's open to continuing the stories of The Big Three and their families, but not anytime soon. "Like 10 years from now," she said. "How cute would it be?" The Emmy-winning series officially wrapped its sixth and final season in May, and Metz noted that it's a bit "too raw" to reunite in the near future. 
But if we're ever lucky enough to see our favorite on-screen family together again, Metz has a few ideas focused around the next generation of Pearsons. "I love to see kids grow up. What Tess and Annie would be doing and Jack and Hailey," she explained. "I think it could go anywhere. But yeah, I'm down for it. If [show creator] Dan Fogelman's involved."
Well if it's up to Fogelman, fans may be waiting a while for a reunion. The series creator previously told Variety that he couldn't see the drama moving past Season 6. "The stories of these characters are told," he said. "So there is no real spinoff because you kind of know everything. Is there another play for the show? I guess you'd never say never, but I don't see it. It's personal to me, and I don't see myself picking this thing back up."
But a This Is Us movie is another story. "I'm very aware that a midlife crisis is right around the corner for me and that whatever I do next I'm going to hate in comparison to this show and these actors," he said during a spring 2022 TCA event. "So I say no to nothing... If we can figure out a movie down the road, I'd love to get back together with these guys and do it."
We'll be crossing our fingers.