NBC Insider Exclusive
Create a free profile to get unlimited access to exclusive show news, updates, and more!
Sign Up For Free to View
Nicole Rémy Opens Up About The Courtship's First (Dramatic) Farewell Dance
After an "emotional" first elimination, Rémy has a message for her suitors: "Don't tell me what I will and won't regret."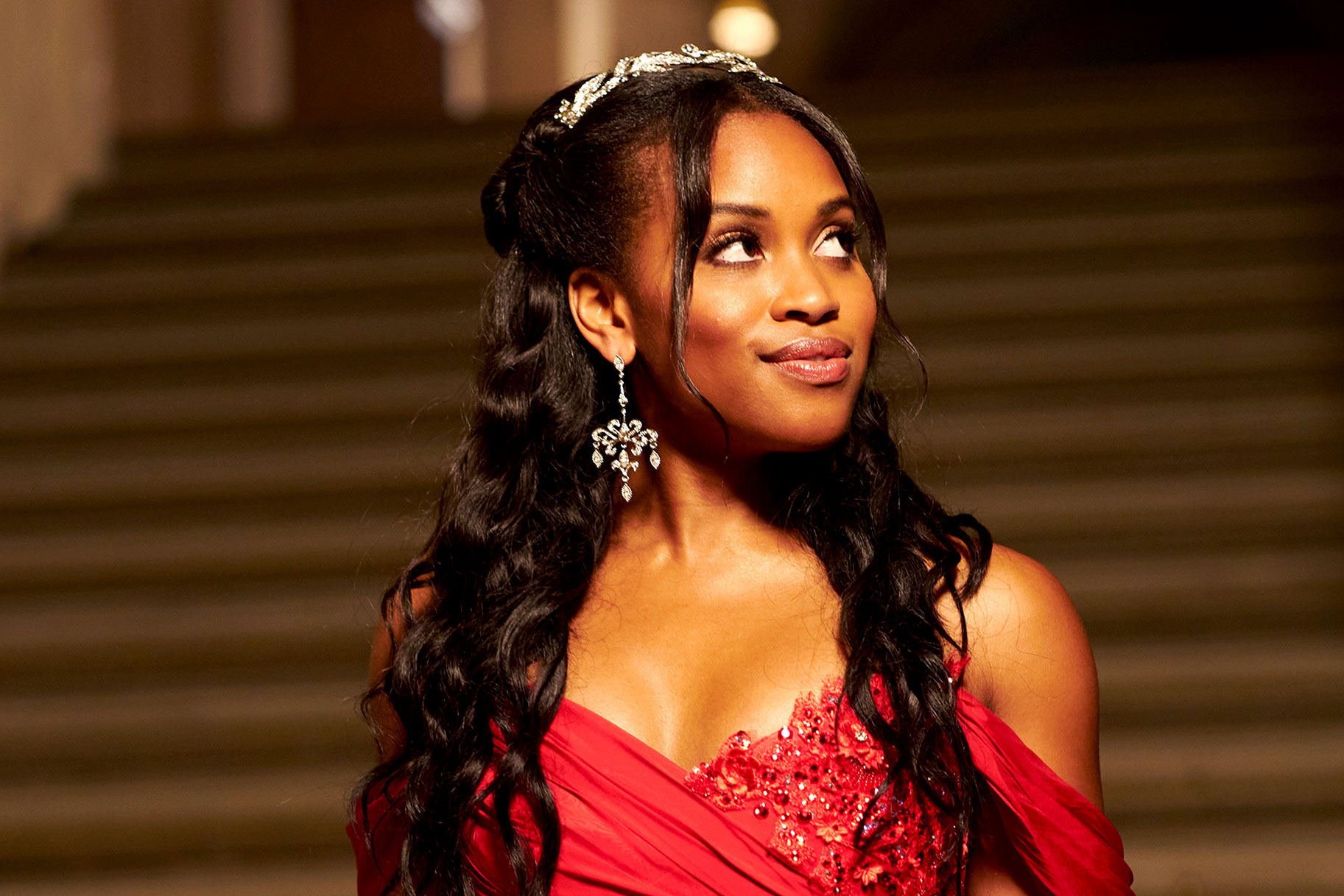 Only one episode of NBC's new dating show The Courtship has aired, but there's still much to discuss. The buzzy reality series is set in Regency-era England and centers on a modern-day woman, engineer Nicole Rémy, looking for love the old-fashioned, chivalrous way. In Episode 1, we met the 16 eligible (and extremely handsome) suitors vying for her attention—all dressed in ruffled shirts and waistcoats. Throw in the fact the show is filmed at the Castle Howard in North Yorkshire, England, and you have the perfect Jane Austen-esque setting for romance. 
Episode 1 confirmed The Courtship will take the Regency era's dating rules very seriously. From the time-appropriate garb to chaperones in the form of Rémy's Court—comprised of her parents (Claire Spain-Rémy and Claude Rémy), sister (Danie Baker), and close friend (Tessa Cleary)—it's clear we aren't in Tinder-land anymore.
One more element that proves this: the Farewell Dance, which happens at the end of every episode. For the dance, Rémy selects a handful of suitors to waltz with her one-on-one—and as this happens, they plead their case to stay. (Yes, they're dancing and begging Rémy not to cut them at the same time.) 
It's a nerve-wracking ritual—and for Rémy, it has super-charged stakes. She has to balance fighting for what she wants with being empathetic toward the suitors she's cutting. (As for the actual choreography, she's a pro, having danced with the Seattle Seahawks cheerleaders for two years.) 
"It was very emotional for me," Rémy tells NBC Insider about the Farewell Dances. "Even if I didn't feel that strong of a connection with somebody. For me, it was spending that intimate moment with them, dancing this close, and knowing their longevity in this process is determined by me."
Episode 1 was jam-packed for Rémy. The highs were high—please see: the literal fireworks on her first date with Mr. Daniel Bochiccio—but things got serious when the Farewell Dance started. Rémy put six suitors up for elimination by writing their names on a dance card: Mr. Lewis Echavarria, Mr. Chandler Luxe, Captain Danny Kim, Mr. Peter Saffa, Mr. Caleb Ward, and Dr. Jarret Schanzer. 
"For the guys, they're worried about going home," Rémy says. "They're worried about, 'Am I saying the right things, am I doing the right steps? Am I stepping on her dress?' It's really stressful for the guys. I have to give it to them, because this isn't something they do in their typical lives."
Two of the suitors Rémy sent home, Mr. Ward and Mr. Echavarria, exited gracefully, but Dr. Schanzer wasn't so kind, telling Rémy as he left, "You're making a big mistake." 
"Don't tell me what I will and won't regret," Rémy tells NBC Insider. "I'm an independent woman, I'm making my decision, and I'm standing by it. And if that's how you react to that kind of thing, then you're definitely not my guy."
She continues, "He's financially stable, he's smart, he's educated. And those are great qualities in anyone, right? For me, though, bless his heart, I just felt like it was a bit gimmicky." (That's a reference to the jokes Dr. Schanzer made throughout the night. "They say an apple a day keeps the doctor away," he said at one point to Rémy, unveiling an actual apple and giving it to her.) 
"It was just a lot, and I felt like I couldn't tell if it was for the performance value [because] he hasn't even met me yet," Rémy says. "He doesn't know what my sense of humor is. He's not taking the time to get to know me. He's just assuming I'll vibe with that." 
Rémy did, of course, vibe with several guys in Episode 1. Mr. Bochiccio has emerged as the frontrunner, but will he make it all the way? Or will he find himself at a Farewell Dance—and on the chopping block? Only time will tell. 
The Courtship airs Sundays at 8 p.m. ET on NBC.