NBC Insider Exclusive
Create a free profile to get unlimited access to exclusive show news, updates, and more!
Sign Up For Free to View
Nicole Rémy's First Kiss on The Courtship Was Beyond Romantic
There were literal fireworks.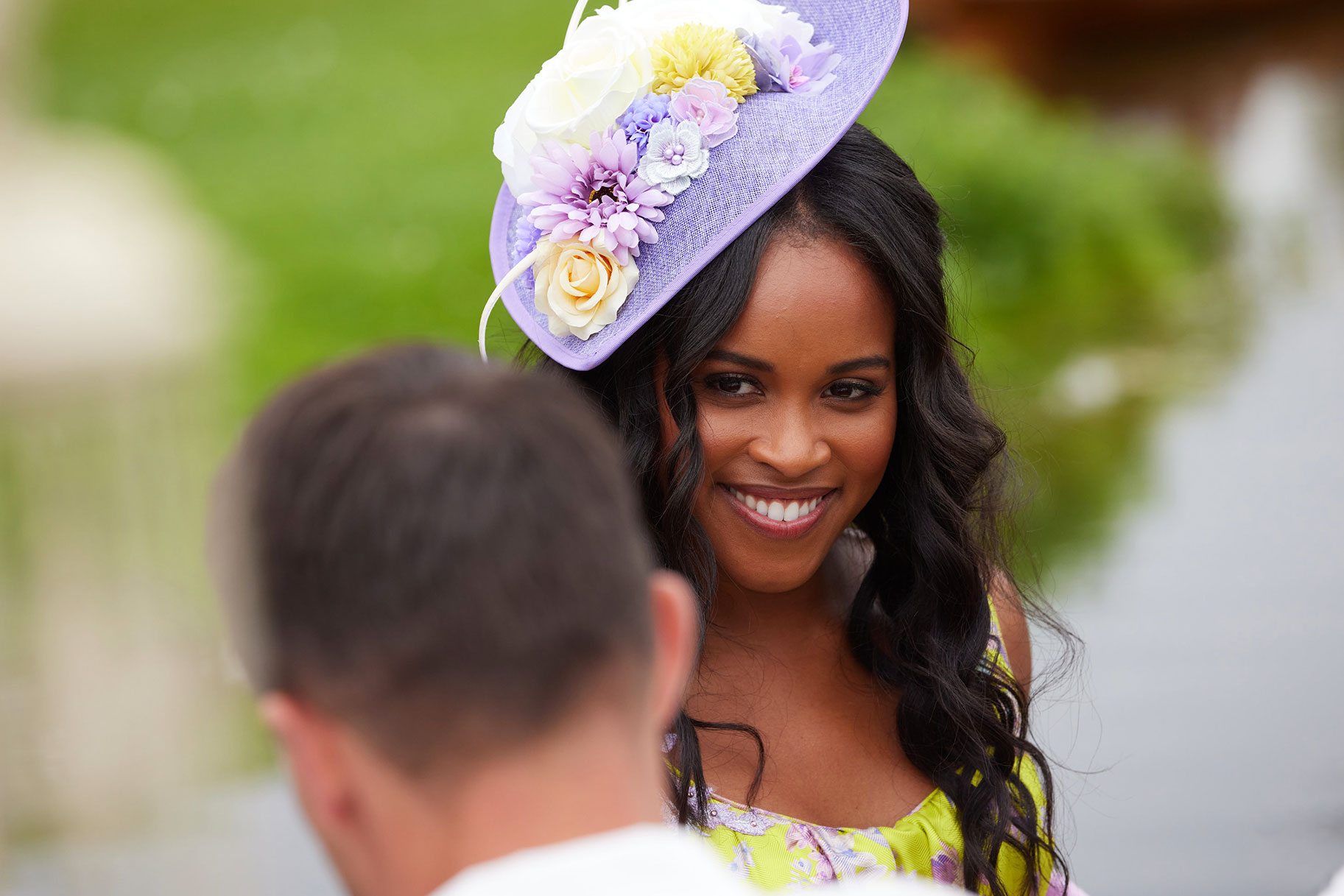 Nicole Rémy's first one-on-one date on The Courtship was something out of a fairytale. After meeting her 16 suitors in Episode 1's opening party, she chose Mr. Daniel Bochicchio to sneak off with for a little private time on the castle lawn. Their chemistry was palpable off the bat. While Rémy's interactions with the other men were perfectly fine, she had a noticeable spark with Mr. Bochicchio. 
And those sparks flew on their one-on-one date. They sipped champagne, lounged on a Regency-style sofa, and cuddled amidst candles and plush throw pillows. The setup was a Jane Austen novel⁠ come to life—and totally breathtaking, as both Rémy and Mr. Bochicchio said several times. 
But the most breathtaking part of the date didn't happen until the very end. Fireworks started going off from behind the castle, supplying the perfect environment for a first kiss—one even the visibly-nervous Mr. Bochicchio couldn't pass up. So they kissed, and it was dreamy. Romantic fireworks to accompany the literal ones, and all that jazz. 
"Mr. Bochicchio, he really took the time to get to know me," Rémy tells NBC Insider about why she picked him for that first one-on-one date. "He made this amazing eye contact with me. He said, 'You know, I just can't wait to talk to you later or something like that.' That moment was so magical because I felt that this wasn't about him. It was about me. And I didn't feel that with all the other guys there.There were guys I spoke to who I felt like I would offer something to say, and then they would turn it back on themselves and just talk about themselves. I felt like Mr. Bochicchio, from the moment I met him, was all about me and getting to know me. The date we had was so magical."
That magic couldn't fully calm Mr. Bochicchio's jitters, though. "It was so cute, too, because he was so nervous," Rémy says. "As we were walking to our little seating area for that date, he was shaking. [But] I just had this sense of calm over me that this was right. I remember just telling him it's gonna be okay. I looked up at him, and I was like, 'Oh, he's tall. Okay, he's cute. I hear a little accent; where is he from?' I didn't really know much about him, but all I knew was that I wanted to get to know him more. I felt like we could have a connection." 
Of course, that connection was first established at the opening party. "Me and Nicole locked eyes,"  Mr. Bochicchio tells NBC Insider. "And I just made a point to make sure I spoke to her before pretty much anybody else. I think that's why I left a lasting impression." 
That being said, he says he went into this experience with "no expectations." "I didn't expect to get the first date," Mr. Bochicchio says. "I didn't expect it to be so amazing." 
Are there more amazing times for Rémy and Mr. Bochicchio in store? Watch The Courtship Sundays at 8 p.m. ET on NBC to find out. 
Reporting by McKenzie Jean-Philippe