NBC Insider Exclusive
Create a free profile to get unlimited access to exclusive show news, updates, and more!
Sign Up For Free to View
That's My Jam and Password Holiday Specials Are Coming to NBC This Year
Your favorite game shows are getting a festive spin for the holiday season!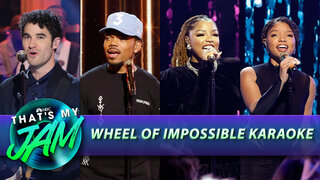 NBC's That's My Jam and Password are getting festive in 2023 with special holiday episodes!  
For the unfamiliar, That's My Jam is a spinoff from The Tonight Show Starring Jimmy Fallon, and it highlights an array of whimsical, music games that are featured on the nighttime talk show. That's My Jam consists of two teams of two celebrities each competing for a charity of their choice in a series of music, dance, and trivia-based games and musical performances for an overload of fun for the whole family. Celebrity guests such as Kelly Clarkson, Blake Shelton, and John Legend have all been featured previously. Games played on the show include "Turn the Beat Around," "More Than a Feeling," "Undercover Covers," "Wheel of Impossible Karaoke," and "Doombox." 
RELATED: That's My Jam Is Renewed for Season 3! Details About the Premiere, Celebs, and More
Meanwhile, Password also sees two teams comprised of two celebrities each aiming to guess a mystery word through one-word clues. Keke Palmer hosts NBC's Password, and she received a 2023 Emmy nomination for Outstanding Host For A Game Show for her work. 
"I'm really feeling personality-hosting and producing, because I'm really feeling me and myself more than portraying someone else. Even though my personality in hosting is still a performative aspect of who I am, it's a little bit closer to who I am than playing a character or a role," she told The Washington Post of her experience on the show. 
Below, get all the information you need to know about That's My Jam and Password's holiday-themed episodes. 
Where to watch the That's My Jam holiday special episode 
The That's My Jam holiday episode airs Monday, November 27 at 9/8c on NBC and next day on Peacock. 
The hour-long episode will feature festive versions of music-based games, performances, and musical impressions. Former beloved Saturday Night Live stars Fred Armisen, Rachel Dratch, Ana Gasteyer, and Melissa Villaseñor are set to make appearances.
RELATED: Chance the Rapper's Raspy Tina Turner Cover Will Make Your Day
Where to watch the Password holiday special episode 
The Password holiday episodes premieres Monday, December 18 at 10/9c on NBC and airs next day on Peacock. Palmer returns to host this holiday-themed edition of the iconic celebrity word game ahead of the Season 2 premiere. 
Originally published Nov 2, 2022.