NBC Insider Exclusive
Create a free profile to get unlimited access to exclusive show news, updates, and more!
Sign Up For Free to View
Everything to Know About NBC's New Comedy, Extended Family
Get ready to belly-laugh.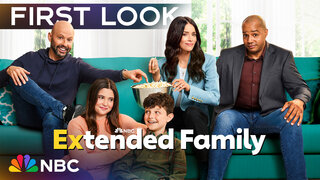 A hilarious new comedy, Extended Family, is coming to NBC. 
Starring Jon Cryer, Extended Family is a new multi-cam comedy centered around the shifting family dynamics following a good-natured divorce — and the surprisingly hilarious moments that come with co-parenting. The gags on Extended Family will be messy, endearing, and packed with hilarity, and you won't want to miss them! 
Below, read everything to know about NBC's new comedy Extended Family, including premiere dates and cast information. 
What is Extended Family about?
The official synopsis for Extended Family teases: "After an amicable divorce, Jim and Julia decide to continue to raise their kids at the family home while taking turns on who gets to stay with them. Navigating the waters of divorce and child-sharing gets more complicated for Jim when Trey, the owner of his favorite sports team, enters the picture and wins Julia's heart."
RELATED: All of the Holiday Specials Airing on NBC in 2023
When does Extended Family premiere?
Extended Family's first episode will premiere Saturday, December 23 at 8/7c on NBC and stream next day on Peacock. The time period premiere for Extended Family will be Tuesday, January 2 at 8:30/7:30c on NBC. From there, the show will air Tuesdays at 8:30/7:30c on NBC and stream next day on Peacock. 
The Extended Family cast
The cast of Extended Family includes famed comic actor Cryer, Donald Faison, Abigail Spencer, Sofia Capanna, and Finn Sweeney. 
Mike O'Malley is the writer and executive producer of the new show, alongside executive producers Tom Werner, Wyc Grousbeck, Emilia Fazzalari, and George Geyer.
Cryer has been making audiences laugh for decades, skyrocketing to fame as Philip F. "Duckie" Dale in the iconic '80s film Pretty in Pink alongside Molly Ringwald. Cryer has starred in numerous film projects since, such as Big Time Adolescence, Hot Shots, and No Small Affair.
RELATED: NBC's 2024 Midseason: See When New Law & Order and One Chicago Episodes Premiere
Many will also recognize Cryer from his role as Alan Harper in Two and a Half Men, which he and Charlie Sheen starred in from 2003-2015. The role earned Cryer two Emmy Awards for Outstanding Supporting Actor in a Comedy Series in 2009 and Outstanding Lead Actor in a Comedy Series in 2012. 
Originally published May 12, 2023.