NBC Insider Exclusive
Create a free profile to get unlimited access to exclusive show news, updates, and more!
Sign Up For Free to View
Shakina Talks Quantum Leap's Trans-Focused Episode—And the Franchise's Legacy
Quantum Leap airs new episodes Mondays on NBC, and you can stream them next day on Peacock.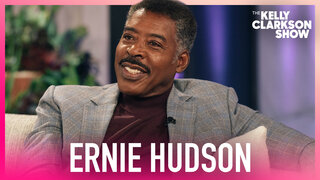 Dating back to the original 1990s series, Quantum Leap has never been afraid to push forward with progressive storylines, and NBC's revival series is building on that legacy.
The February 6 episode, "Let Them Play," streaming now on Peacock, found Dr. Ben Song (Raymond Lee) leaping into a father and basketball Coach in 2012. Specifically, Ben lands in the father of a transgender player on a girl's basketball team. And he's tasked with helping everyone—from the school administration to the community—realize she deserves a chance to play the game she loves.
The episode was co-written and directed by transgender actress and activist Shakina, who aimed to bring personal experience and insight to the story of Gia, the young transgender basketball player at the center. Shakina noted the story, despite being set just over a decade in the past, remains as timely as ever.
"Just in the last few weeks, as we've been preparing to release the episode, four separate states have passed laws banning trans kids from playing in school sports," Shakina told NBC Insider. "There are laws being passed all over the country making life harder for trans kids, their parents, their teachers, Coaches, and doctors. Meanwhile, the trans youth suicide rate is eight times higher than cisgender youth, and those kids make up a fraction of the population. Trans kids have become a political wedge issue and people have forgotten that they're playing with children's lives instead of letting children play."
Shakina said the hope is that telling Gia's story will help the viewers connect a face, and person, to the stories they often see crop up on the news. And for them to realize there's always a human being, and a real family, behind those headlines.
"I hope viewers will realize that trans kids are kids, that trans people are people, and that we're all just trying to be ourselves and care for our loved ones," Shakina said. "...People don't have a face, a story, to put the situation into context. I believe in the power of broadcast TV to change hearts and minds. I've seen it happen, and I'm hopeful that when viewers meet Gia and the Mendez family, it will happen for us."
Shakina even filtered some of her own experiences growing up into the episode, most notably a sign being held in the crowd during the final basketball game that played a pivotal role in her own childhood.
"I was a queer youth activist in the '90s, before we had Gay Straight Alliances in schools. Gia, as a character, is based off my struggles but also the lives of two dear friends of mine who, unfortunately, didn't survive the same battle. Beautiful, young souls who were crushed by un-acceptance," she said. "The 'Hands for Equality' poster that the crowd passes along the stands to block the haters in the final game is actually a direct replica of a banner I made myself when I was 17. My school wouldn't let me hang it up back then."
As for her Quantum Leap bona fides, Shakina said she watched the original series when she was younger and still holds onto the memories some of the show's more progressive episodes left with her, even decades later.
 
"I remember growing up and watching Quantum Leap with my family, and the 'don't ask don't tell episode' from 1991. [There] was this moment where I was a 10-year-old kid sitting on the couch with my parents talking about how it's OK for people to gay," Shakina said. "When I joined the writers room for this new chapter, I knew I wanted to create something as groundbreaking as that moment for the trans experience, not only for trans kids and their families, but also for anyone who's never gotten the chance to get to know a young trans person and understand their life from within their experience."
 
Already a fan, Shakina said she was also excited to work on Quantum Leap as a way to explore the ways the sci-fi genre can shine a light on our own world in a unique way. 
 
"What I love about science fiction is that we get to create the worlds we want to see, or caution against the worlds we see ourselves approaching," she said. "And when we use creativity and storytelling to create new realities, we actually give our subjects permission to exist. Quantum Leap is about repairing the past to make a more hopeful present, and when we use genre to bring people into a timeline of equality, we actually change the future."
Watch Quantum Leap Mondays at 10/9c on NBC and next day on Peacock.