NBC Insider Exclusive
Create a free profile to get unlimited access to exclusive show news, updates, and more!
Sign Up For Free to View
Who Is Caitlin Bassett From Quantum Leap? Meet the Actress
She had a completely different career before acting.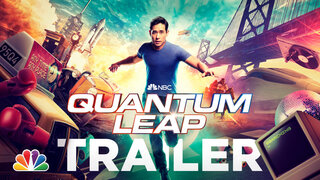 Actress Caitlin Bassett plays Addison Augustine on the new Quantum Leap, and both diehard fans of the original series and newbies to the time-travel canon are eager to know more about the up-and-coming actress. Here's how Bassett found her way on one of the most highly-anticipated series, airing on NBC. 
 
Watch Episode 1 of Quantum Leap
Bassett served in the U.S military.

The Baltimore-area native's father served in Vietnam and her grandfather served in WWII.  Following in their footsteps, Caitlin joined the military shortly after graduating high school at 18. As an intelligence analyst for the U.S. Army and the National Security Agency, Bassett's tenacity and dedication led her to devote seven years of her life to active duty with three international combat deployments, two of which were in Afghanistan.

She also went to law school. 

While in the military, Bassett took advantage of the GI bill and got her undergraduate degree in legal studies from the University of Maryland University College. After concluding her military service, Bassett moved to New York, where she attended Brooklyn Law School before deciding to pursue acting full time. She was accepted to the Stella Adler conservatory where she studied before auditioning for Quantum Leap. 

Quantum Leap is her first professional acting project. 

Though she was very busy pursuing acting through auditioning, studying, and doing student and indie projects around New York, Quantum Leap serves as Bassett's professional acting debut. 

Bassett's a fan of Law & Order: SVU. 

In a recent interview with NBC, Bassett revealed some of her favorite characters and TV shows, and we couldn't appreciate her authenticity any more. 

"Who would I play if I could leap into any character from any NBC or Peacock show in any decade?" Bassett posed. "Good question. I would definitely leap into anyone from Parks and Rec, anyone from Friends, or Olivia Benson from SVU because she's a badass."
 
Watch Quantum Leap Mondays at 10/9c on NBC and next day on Peacock.