NBC Insider Exclusive
Create a free profile to get unlimited access to exclusive show news, updates, and more!
Sign Up For Free to View
Reba McEntire and Her Boyfriend Took the Most Breathtaking Vacation: See Pics
Sugar and Tater Tot are exploring Yellowstone!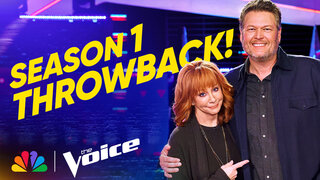 Reba McEntire and her boyfriend, Rex Linn, spent some quality time together this Father's Day!
On June 19, The Voice Season 24 Coach took to her official Instagram page to share a snapshot (see here) of herself and Linn posing together outside a scenic rocky landscape in Yellowstone National Park. In the photo, the two sported some matching camo and baseball caps. 
"Happy Father's Day to all you fathers, from the Tots!! From the Grand Canyon of Yellowstone!!" she warmly captioned the post. 
McEntire and Linn have the most adorable relationship. In a recent interview on The Jennifer Hudson Show, she disclosed the sweet nicknames they have for each other and how the cute aliases came to be. 
"Well, Rex Linn, my boyfriend, he's a handsome rascal...His best friend from sixth grade is Ed Gaylord, and I've known Ed for a long time, and so we're all friends," she started off explaining the story. 
"And then in January of 2020, before COVID, I was doing Young Sheldon, Rex was doing Young Sheldon, so was Melissa Peterman, who played Barbra Jean on the Reba show. So Rex texted me, 'You gonna be in town?' I said, 'Yeah.' He wants to go to dinner," she continued.
McEntire added, "...So we all went to dinner, had a good time, went down that street to a wine bar, and they said, 'Well, I understand that you've already had dinner, but we do have some good appetizers. I said, 'What do you have?' They said, 'Well, we have tater tots.' And so Rex said, 'That's your nickname from here on out: Tater Tot.'"
"We're the Tots, Sugar and Tater," McEntire said with a chuckle. "So we've been together ever since. He's a sweetheart." 
RELATED: Reba McEntire's History with The Voice, from Mega Mentor to Season 24 Coach
As previously mentioned, McEntire will be a new Coach on The Voice Season 24, replacing the country presence of Blake Shelton. Surprisingly, in an interview with Watch What Happens Live in 2022, she fooled us by saying she had no plans to ever join the show as a full-time Coach after guest starring as Mentor. 
"It was a very popular show in Holland, I'm pretty sure, and I watched the tape, and I said, 'No, I'm going to pass on that,' because I don't think I could ever be able to tell somebody that they're terrible or go find another job or hope you like your nighttime job," she explained. "I couldn't do that day in and day out." 
RELATED: Lady A Beautifully Covered 2 of Reba McEntire's Biggest Hits — in Front of Her
We're sure glad she finally came around!