NBC Insider Exclusive
Create a free profile to get unlimited access to exclusive show news, updates, and more!
Sign Up For Free to View
Luke Bryan Epically Roasted Blake Shelton for Doing This Viral Dance Trend
In his defense, Shelton kind of nailed it!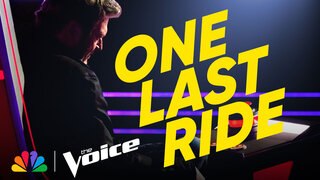 On June 17, Blake Shelton and singer Lauren Alania did a fun dance routine to her original tune "Thicc as Thieves" while on his tour bus at the Barefoot Country Music Festival. In the clip (see here) posted to his official Instagram page, we catch a hilarious glimpse of Shelton trying to keep up while he and Alania shimmied and kicked together, both giggling in amusement. 
"Can't believe I got talked into this @laurenalaina... Congrats on the new song buddy!!!! Y'all go listen!!!!" Shelton captioned the post.
Hysterically, Shelton's pal Luke Bryan chimed in with his thoughts. "I didn't think anything could be worse than your singing until now," Bryan wrote in a cheeky comment with now over 4,000 likes.
Although Bryan made a fun jab at Shelton on social media, Bryan has actually been a longtime admirer of Shelton. In a 2022 interview on Country Countdown USA with Lon Helton, Bryan discussed the influence Shelton's The Voice career has had on his own endeavors as an Artist. 
"Getting the news that Blake's leaving The Voice. We've talked about our careers in those roles. Blake was a big reason why I decided to do American Idol," Bryan said on the show. "Him stepping down from The Voice, I know he's ready, he's ready to move to the next chapter. It's gotta be a good feeling. I wish him nothing but the best, and I thank him for paving the way for there to be a voice of country music on TV like that."
In May 2022, Shelton posted another video of himself dancing, this time to the hit "About Damn Time" by Lizzo. In the clip, he waved his arms around and gave a cheeky smile at the camera. "Did I do this right???" he captioned the post.
RELATED: A Complete History of The Voice Coach Blake Shelton's Mullet(s)
In another clip on a tour bus this April, Shelton took a more relaxed approach to to the whole dancing thing. His wife Gwen Stefani held the camera while an Ozzy Osbourne tune played, and we saw Shelton chilling on the Coach with a drink in hand, casually nodding to the beat.