NBC Insider Exclusive
Create a free profile to get unlimited access to exclusive show news, updates, and more!
Sign Up For Free to View
Everything to Know About the Law & Order Theme Song
Mike Post is the famed composer of both Law & Order's theme song and the show's iconic "Dun Dun."
Few television themes can compete with the Law & Order theme song in terms of ubiquitousness. The jazzy tune is eerie, hypnotic, and catchy — the perfect opening theme to the show. 
In over two decades on air, every Law & Order episode has kicked off with the same silky opening sequence, instantly getting viewers ready for the action that awaits. The tune has become a cherished token of the true-crime zeitgeist, an audible alert that a nail-biting investigation is underway.
Since Law & Order's 1990 debut, fans know that if they hear that gritty guitar and jazzy clarinet, it's time to solve a criminal case. It's now a beloved pillar of Dick Wolf's sprawling franchise.
Now, learn everything about how the cherished tune was born.
Who wrote the Law & Order theme song?
The Law & Order theme song was written by famed television composer Mike Post, who officially titled the tune "The Theme of Law & Order."
RELATED: Meet the Man Behind Every Law & Order Voice Intro—And Hear His Incredible Story 
Featuring a mesmerizing mix of guitar, electric piano, and clarinet, the tune has become a mainstay within the franchise, tweaked to be included in each of Wolf's smash spin-off series. 
How did Mike Post come up with the Law & Order theme song?
Post is the proud creator of several treasured television theme songs, having penning tunes for Murder One, The Rockford Files, L.A. Law, the original Quantum Leap, and original Magnum, P.I. 
Post met Wolf when the media mogul was still writing for Hill Street Blues — another series elevated by Post's pristine composition. In 1982, Post won two Grammys for "The Theme From Hill Street Blues," so Wolf knew he was capable of creating an exciting theme for his serialized thriller.
In 2005, Post revealed to the Television Academy Foundation that Wolf reached out to him to write the Law & Order theme song after the producer drafted the show's pilot in the late 1980s. Post enjoyed the pilot episode of Law & Order, prompting him to create the jazzy theme that instantly provokes visions of inner-city crime and legal thrills. It's widely regarded as the perfect theme for the police procedural — an auditory bat signal of criminal wrongdoing afoot.
Post believes Law & Order's minimal use of music only elevates its message, and that his simplistic score keeps the focus on the compelling detectives and their intense circumstances.
"There's very little music in Law & Order, and very little is needed," Post explained in a 1993 interview with EW. "It's odd, to be honest, when you've written a theme that you think is very musical and what everybody wants to talk about is 'The Clang.'"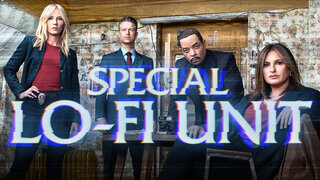 What else has Mike Post done for the Law & Order franchise?
Mike Post also created "The Clang"
Where would Law & Order be without its legendary "dun dun"? Post has earned mythic status as the creator of the Law & Order theme song but has earned equal acclaim for creating the "dun dun" transitional sound, officially known as "The Clang."
Post told the Television Academy that after hearing the mesmerizing Law & Order theme song, Wolf wanted Post to create a unique auditory signal for the series' scene changes to keep viewers engaged.
Post revealed, "[Wolf] called me after and he said, 'Hey look, you know those cards [on the show]?' I said, 'Yeah, the location and the time stamp?' He said, 'I need a sound for it.' I said, 'Talk to sound effects.'"
Wolf assured Post that he'd be making something memorable for the show and asked Post to create "something that's really distinctive." Post eventually agreed. 
In an interview with EW, Post gave a behind-the-scenes snapshot of the iconic Law & Order sound. Post electronically synthesized the sound by combining several other noises to get the perfect chilling effect.
"I think of it as the stylized sound of a jail cell locking," Post revealed. "I wanted to add something that's very distinctive but not a literal sound. What I tried to do was jar a little bit." 
Post revealed in an episode of The Law & Order: SVU podcast that surreal samples for the haunting effect include various drums, the sound of a hammer hitting an anvil, a jail door being slammed shut, and the sound of 500 Japanese men stamping their feet on a wooden floor at a "monstrous Kabuki event." 
Post is a musical magician as the genius responsible for mixing these elements to create the bewitching sound fans have adored for decades.
However, Post is keen to clarify "The Clang" is not a sound effect. 
Related: The Iconic Law & Order 'Dun-Dun' Sound Now Has a Button
"It's not a sound effect; it's a piece of music that actually gets a royalty," Post told the Television Academy. "I call it the 'ching-ching' because I'm making money off of it."
Between the Law & Order theme song and the series' quintessential "Clang," Post has created a legacy within Law & Order's musical landscape. Post's spot-on composition effortlessly pairs with Wolf's cerebral penmanship, cementing the franchise's sonic brand.