NBC Insider Exclusive
Create a free profile to get unlimited access to exclusive show news, updates, and more!
Sign Up For Free to View
Catch New Photos of La Brea Season 2 After Its Midseason Hiatus
We have a sneak peek of what's to come in 10,000 B.C.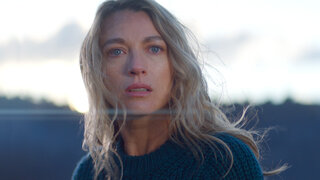 After an extended midseason hiatus, new episodes of La Brea Season 2 will finally return to NBC on January 31. And the best part? It'll be a double episode premiere event, with two hours of the sci-fi series beginning at 9/8c.
We've got sneak peek photos from the two episodes—"Stampede" (8) and "Murder in the Clearing" (9)—below. 
The first episode picks up with Eve (Natalie Zea), Caroline (Melissa Neal), Riley (Veronica St. Clair), Sam (Jon Seda), Gavin (Eoin Macken), Izzy (Zyra Gorecki), and Josh (Jack Martin) arriving in 10,000 B.C. again after leaping into the 1989 Hollywood sinkhole. Their goal is to get back to Lazarus Tower in order to upload a virus that's supposed to bring all sinkholes to an end—effectively trapping them in the past forever. Back at the clearing, the remaining survivors have to face yet another threat to their shelter.
In the second episode, one of the La Brea survivors is killed in the clearing and Sam and Lucas take it upon themselves to find the killer. Meanwhile Gavin is consumed by the vision he saw of Eve, which seems to predict her death. "It's going to be a real problem, how do we prevent that?" series executive producer David Appelbaum told TV Line. "It's going to complicate all the relationships, knowing that that is a thing that could happen."
Below, catch a glimpse of what's to come of La Brea Season 2—in pictures. First up, Lucas, Sam, and Ty seem to be using fire to protect themselves from something we can only assume is a big problem.
Next, Ella (Michelle Vergara Moore) seems to be getting up to some trouble in a spooky cave.
Now Ella is spending quality time with her sister Veronica's (Lily Santiago) new flame, Lucas.
Caroline, Eve, Riley, and Sam on their mission to upload the virus to Lazarus Tower.
Gavin, Caroline, Josh, and Riley look eager to find Lazarus Tower after arriving in 10,000 B.C. from the 1989 Hollywood sign sinkhole.
La Brea Season 2 resumes on Tuesday, January 31 on NBC at 9/8c. You can watch all episodes now on Peacock.