NBC Insider Exclusive
Create a free profile to get unlimited access to exclusive show news, updates, and more!
Sign Up For Free to View
A New Love Triangle Makes Things Awkward on La Brea
Eve may be put in the middle of her husband and her boyfriend.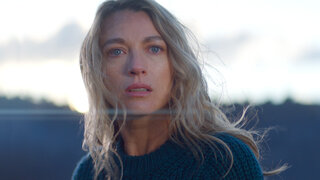 As if the people of La Brea didn't have enough to deal with already—you know, with the whole time-traveling to 10,000 B.C. thing—an awkward love triangle has officially entered the chat.
During Season 2, Episode 3's "The Great Escape," Eve (Natalie Zea) and Levi (Nicholas Gonzalez) were finally reunited with Gavin (Eoin Macken)—and they're all now in the clutches of the Exiles after Gavin arrived in 10,000 B.C.
But while Gavin is Levi's best friend and Eve's husband, there's some history there that is likely to cause tension between the three.
What happened between Eve, Levi, and Gavin?
Fans will remember from the first season that a few years prior to the sinkhole, Levi and Eve had an affair when a troubled Gavin turned to alcohol after an accident that triggered his visions. Eve and Gavin were also separated at the time of the sinkhole. 
Levi came back into the picture when the DHS hired him to rescue the sinkhole survivors. Before traveling through the portal, Levi told Gavin about his and Eve's affair. Later on in 10,000 B.C., Eve and Levi came to depend on each other as they fought to survive. Fast-forward to Season 2, and the two seem to be fully embracing their connection while captured by the Exiles. Levi even voluntarily turned himself in to the warriors so he could be by Eve's side.
Through a series of flashbacks in the season's second episode, we even saw how their relationship grew as Gavin became increasingly absent, but their romance was cut short after Izzy's accident and when Levi was deployed.
"I feel like with Gavin and Eve, they've got a sort of built-in history of marriage and children and all that," Zea told NBC Insider. "And so that's, I think, in people's minds. There's a conceptualization of who they were."
She continued, "Eve and Levi, there wasn't a whole lot of details. I'm glad they did [the flashbacks] because I think it gave the two of them as much context as Eve and Gavin, so that people could kind of get the whole story, surrounded by why she's in the predicament she's in."
Will Eve pick Levi or Gavin?
In "The Great Escape," Eve had clearly decided to be with Levi—until Gavin shows up. She now knows his visions were real and actually memories, which in some ways absolves him of their years of unhappiness. He's in 10,000 B.C. ready to protect his family and be there for his wife, but is that enough? Or is it too late?
"Gavin, you seem different," she tells him. "Like the person I used to know. It suits you."
She's now faced with choosing who to put her trust in while trying to escape from the Exiles: Her husband or her boyfriend. And this will clearly put a strain on the estranged besties' friendship. Dramatic? Definitely, but this is La Brea, and we'll keep tuning in to find out where this love triangle leads.
Watch La Brea on NBC Tuesdays at 9/8c and next day on Peacock.