NBC Insider Exclusive
Create a free profile to get unlimited access to exclusive show news, updates, and more!
Sign Up For Free to View
The Chicago P.D. Showrunner Says Halstead's Exit Will Be 'Really Impactful' (UPDATED)
"We tried to stay really true to his character and to what he stands for."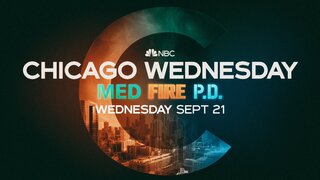 UPDATE October 5, 2022 11:00PM ET: In the final moments of Chicago P.D. Season 10, Episode 3 "A Good Man," it was revealed that Detective Jay Halstead (Jesse Lee Soffer) had resigned from the Intelligence Unit. In addition to leaving the force, Halstead revealed to his wife, Hailey Upton (Tracy Spiridakos), that he had taken a new job with the Army and would be stationed in Bolivia for eight months, "maybe a little longer," leaving many questions about what this means for the future of Upstead and the rest of the Intelligence Unit. 
The original story continues below 
Chicago P.D. Season 10 will be the final season for longtime detective of the CPD, Jay Halstead (Jesse Lee Soffer). Some fans may be sad to bid farewell to Detective Halstead and everything Soffer brings to the One Chicago universe, but luckily, Chicago P.D. showrunner Gwen Sigan has confirmed his exit will not demand a sudden goodbye.
"Hopefully, it all makes sense when everyone sees the episode that he's departing in, and we did build to it, and we did have a chance to do that. We tried to keep it as grounded [as possible] and do justice to Jesse and how great he is," Sigan revealed to TVLine. "He puts in a very good performance in all of it. It's going to be really impactful."
Sigan also told Variety, "I've been trying to look at it as really giving him something incredibly powerful. I think he's really brilliant in this season, what he's been in, and so it's nice to see him have that. We tried to stay really true to his character and to what he stands for and what he means for the show and for the unit."
Sigan also touched on what Soffer's exit means for Detective Halstead and Upton's marriage. "[It's] definitely going to be a big impact on her character this season when she is without him," Sigan told TVLine. It's such an interesting relationship, and it's been that way since the beginning. They have this thing together. It's like they know what each other's thinking. They have always supported each other." 
"...They've gotten in so many situations that have been so traumatic, and yet they've had each other's backs," Sigan added. "Even their marriage is built on this need to get through something, to be able to be each other's anchor and to keep each other steady. It's a challenge, and she's going to have to get through it. We'll see her go in some interesting places, and how it manifests itself."
Chicago P.D. Season 10 premieres Wednesday, September 21 at 10/9c and the next day on Peacock.