NBC Insider Exclusive
Create a free profile to get unlimited access to exclusive show news, updates, and more!
Sign Up For Free to View
Is a New Episode of The Blacklist on Tonight? June 15, 2023
The stakes are higher than ever on the final season of The Blacklist, with only five episodes left. 
The action has been non-stop on The Blacklist, but weekly watchers will need to press the brakes on new episodes for the final season: The Blacklist is going on a brief hiatus. 
Season 10 has been packed with emotional moments and shocking twists and turns, the perfect send-off for the NBC thriller. The illusive Raymond Reddington (James Spader) and the dedicated FBI Task Force have faced several formidable foes and reunited with numerous returning Blacklisters set on revenge. Red has successfully navigated every challenge that has come his way, but as the curtain closes on The Blacklist's final season, viewers are perched to see how it all concludes. 
RELATED: Filming of The Blacklist Has Officially Come to an End: See Pics From the Wrap Party!
Learn when new episodes of The Blacklist return, below.
Is a new episode of The Blacklist on tonight? June 15, 2023
No, unfortunately not.
The Blacklist is not airing a new episode on Thursday, June 15. In the meantime, fans can catch up on Season 10 episodes on Peacock. 
"It isn't often that a series resonates so deeply with an audience that it airs for 10 seasons, but The Blacklist proved to be a perfect combination of highly talented producers, stellar writing, a cast that never failed to deliver, and a crew that always rose to the occasion," Lisa Katz of NBCUniversal Television and Streaming said following the announcement of The Blacklist ending. "A huge thank you to our partners at Sony, everyone from the past decade who made this show an integral part of NBC's storied history and, of course, a special nod to James Spader, whose performance remains nothing short of spectacular."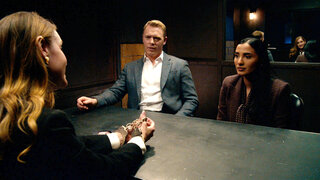 When will new episodes of The Blacklist return? 
Season 10 of The Blacklist resumes its regularly scheduled programming on Thursday, June 22, at 8/7c on NBC.
The synopsis for "Wormwood" teases: "Red's attempt to mediate a meeting between two rival families takes a deadly turn; when an elusive criminal is linked to the incident, the task force races against time to save Red and his associates."
After a decade of eloquent monologues and over a hundred Blacklister cases, The Blacklist will conclude with a two-hour series finale on Thursday, July 13 at 8/7c on NBC.
In an interview with NBC, Spader opened up about why he believes Season 10 is the best place for the show to end.
"I think if the show went beyond this year, it would turn into a very different show," Spader explained. "And I think that the thing that has been nice about this show was that we've never really had a really clear paradigm for the show. Tonally the show shifts a lot from episode to episode, and I think that even the show has taken strange turns, and I suspect that the show, if it went much further, would just become something that would be less recognizable to me."