NBC Insider Exclusive
Create a free profile to get unlimited access to exclusive show news, updates, and more!
Sign Up For Free to View
Did Noah Marry Simone in the Grand Crew Season 2 Premiere? What to Know
We break down the answers to some of the NBC comedy's biggest first-season cliffhangers.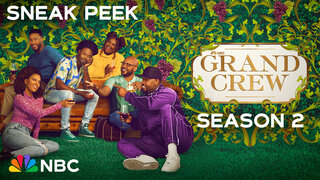 When Grand Crew Season 1 wrapped last March, fans were left with a couple major cliffhangers. Suffice it to say, we had a few questions for Noah (Echo Kellum), Nicky (Nicole Byer), and the rest of the gang. Viewers will remember that Simone proposed to Noah in order to score a green card, Nicky has an anonymous new beau, and Fay and Anthony are trying their best to avoid their feelings for one another. 
Thankfully, each major plot line was addressed and answered during the Grand Crew Season 2 premiere, "Wine & Traffic." Find a recap of everything, below.
Did Noah marry Simone?
Keeping in mind Noah's track record with repeatedly falling unlucky in love, it wasn't too surprising to see that Noah said yes to Simone's marriage proposal. (But not before he saw their entire relationship—complete with a wedding and saxophone-playing son—play out in an extremely detailed daydream.) This means that despite dating for only a matter of weeks, they'll have the chance to continue their relationship instead of Simone having to move back to Montreal because of her expired visa.
The entire friend group, aside from Anthony (Aaron Jennings), are reluctant to tell Noah they think he's making a mistake, and they do their best to support him during an eventful trip to the Santa Monica courthouse. But during their adventure, their true feelings come out and Noah nearly cancels the wedding. In the end, they decide to rally and get him to his nuptials. But by the time they get to the courthouse, it's closed—and Simone has taken matters into her own hands. She married her close friend Courtney instead to ensure that she could remain in L.A., but she still wants to date Noah. Something tell us things are about to get complicated.
Who is Nicky's secret boyfriend?
It turns out the mystery man that Nicky was texting in the Season 1 finale was Michael (Colton Dunn), Wyatt's (Justin Cunningham) brother. Throughout the episode, the two nearly break up for good over the decision to make their romance public. But in the end, they willingly let everyone know, including a dismayed Wyatt.
"He's a great scene partner," Byer told TV Insider about Dunn. "He's so funny. And it's such a fun arc because you think it's going well and then it's like, 'Uh oh.'"
Did Fay and Anthony tell each other about their feelings?
There was very little Fay (Grasie Mercedes) and Anthony during the Season 2 premiere, but we did briefly see them together at the end of the episode. They ran into each other in the back room of the wine bar, and though there is still clearly chemistry, they're in the friend zone. Neither seems like they're ready to make the first move, especially considering Anthony is still dating Talia.
Watch Grand Crew Season 2 Fridays at 8:30/7:30c on NBC. It will stream next day on Peacock.