NBC Insider Exclusive
Create a free profile to get unlimited access to exclusive show news, updates, and more!
Sign Up For Free to View
A Grand Crew Season 1 Recap: What We Know—And Want to Know
We look at the biggest storylines of the NBC comedy's hilarious Season 1 finale, "Wine & Art."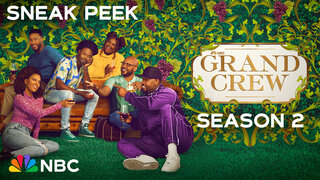 After a year-long hiatus, NBC's feel-good ensemble comedy Grand Crew is returning on March 3. Starring Nicole Byer (Nicky), Carl Tart (Sherm), Grasie Mercedes (Faye), Justin Cunningham (Wyatt), Echo Kellum (Noah), and Aaron Jennings (Anthony), the series sees a close knit group of L.A. friends flock to their favorite local wine bar as they navigate the ups and downs of love and life.
Because it's been a while since we last watched the Season 1 finale—Episode 10's "Wine & Art"—we've taken the liberty at looking back at the episode's biggest moments and the questions they left us with. Hopefully, they'll help you get right back in the groove of things when the show returns this spring.
Will Noah marry Simone?
Despite swearing off love earlier in the season, Noah couldn't help but fall for winery guide Simone in Season 1, Episode 9's "Wine & Vineyards." They're officially boyfriend and girlfriend by the finale, with Nicky using her own unorthodox methods to see if Simone is The One for her brother. (Spoiler alert: She approves.) 
Everything is perfect for the new couple until Simone reveals that her visa is expiring the next week, meaning she has to go back home to Montreal and leave the U.S. for good. The two decide long distance would be too hard, and break up...or do they? In the final scene, Simone asks Noah to marry her so she they can keep dating and remain together in L.A.
So, one of the biggest questions going into Season 2 is whether or not Noah will become a married man or risk losing Simone.
Will Fay and Anthony end up together?
The other major storyline of the season was Fay and Anthony's budding "will they, won't they, friends-to-lovers" relationship arc. After admitting to Nicky that she had feelings for Anthony in "Wine & Vineyards," Fay tried her best to keep the secret between them. Especially considering he's in a serious relationship with new girlfriend Talia. But that became difficult when Anthony asked her to teach him how to dance appropriately and not "freak" in preparation for Talia's friend's wedding.
During the dance lesson, the chemistry between the two friends is obvious, especially when they share a romantic slow dance and almost kiss. All seems back to normal and reverted to the friend zone when they see each other again at Wyatt's photography show. Fay is determined to keep it that way and tells Nicky that "crushes come and go." But a few longing glances from Anthony's end signal to us that their love story may not be over just yet.
Who is Nicky's secret boyfriend?
Perhaps the biggest mystery of the episode? It looks like Nicky has an anonymous beau. In a quick scene, fans saw her receive a text from an unidentified number that read, "I miss my girlfriend." She quickly responded, "And I miss my boyfriend. See you later tonight, boo." 
So, who could be her new bf? We'll just have to wait until Grand Crew Season 2 to find out.
Grand Crew Season 2 premieres on Friday, March 3 at 8:30/7:30c on NBC. It will stream next day on Peacock.