NBC Insider Exclusive
Create a free profile to get unlimited access to exclusive show news, updates, and more!
Sign Up For Free to View
How Terry Crews Made 8-Year-Old Chioma's Dream Come True with a Golden Buzzer
The adorable drummer Chioma created a vision board after dreaming he and the Atlanta Drum Academy could earn the top honor.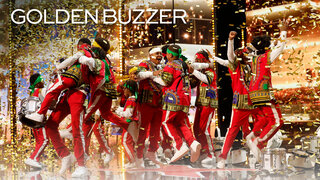 America's Got Talent doesn't get much cuter than this little drummer boy who, along with his musical crew, will be pa rum pum pum pumming directly into the Live Shows.
Who Is Chioma?
Eight-year-old Chioma came with the Atlanta Drum Academy of Atlanta, Georgia, a drum-toting youth band adorned in bright- and bold-colored uniforms. Speaking to AGT producers backstage, Chioma said he and his mother came to the competition after creating a "vision board" with cut-outs and glitter, hoping for a chance to score a Golden Buzzer.
"I believe I can win," Chioma confidently told Host Terry Crews.
RELATED: Terry Crews' Funniest Moments on AGT Will Have You Cracking Up
Chioma explained that he started playing at "1 years old" after his grandmother brought him a drum. The boy said he "just started beating on it" before signing up with the Atlanta Drum Academy, directed by James Riles III, who taught Chioma "sooo much."
The Academy goes beyond learning how to drum — it also teaches drumstick twirls and other fun and skillful tricks, as captured on video.
"I started Atlanta Drum Academy because I wanted to have something that little kids could do; they didn't have to wait until they got in middle school or high school to join the band. They could start playing drums at a young age," said Riles, adding the school is "a safe space" for drummers of all ages.
Chioma said it meant a lot to be a part of the Atlanta Drum Academy and claims to be the youngest of the group's snare drummers.
"Now I'm trying to be the best drummer in the world!" he told producers.
It's of no stretch of the imagination after Chioma told Crews he had a dream of being on the show and winning a Golden Buzzer, which prompted the creation of the vision board.
Atlanta Drum Academy Act on AGT Season 18
Chioma first came on stage alone, adorably forgetting to bring the microphone to his mouth when he spoke. All smiles and giggles, he had a large drum strapped to his small body before the rest of the crew — seemingly consisting of only children and adolescents — joined Chioma to perform.
RELATED: Simon Cowell Says Niall Horan Becoming a Coach on The Voice Is a "Weird, Full Circle-y Thing"
What started as a simple-enough drumming routine soon became anything but, with synchronized marching and stepping. The group incorporated well-timed shouts before drums began twirling and being thrown into the air, accompanied by music clips from Usher's "O.M.G." featuring will.i.am and the 1993 hit single "Whoomp! (There it is)" by Tag Team.
Some of the children even pulled the headbands over their eyes before unleashing on the drums and blindly throwing and catching their drumsticks.
Audiences and Judges alike danced along with the group's routine, bringing everyone to their feet.
"Whoomp, there it is!" joked Judge Howie Mandel.
"It was fun, it was energetic, you guys are adorable," Mandel continued. "I think everybody in this room loved you. I love you."
"I love that you do something with your extra time outside of school instead of being on your computers," said Judge Heidi Klum, giving the group two thumbs up. "You put this amazing act together; I love that!"
Judge Sofia Vergara agreed.
"I haven't seen anything like this before on this stage," she said. "You guys might have a very big chance to win this competition 'cause I think everyone is gonna go crazy."
Judge Simon Cowell started by saying, "I didn't like it," but after some booing from the live audience, he revealed, "I absolutely loved it."
"What's not to like?" he continued. "They're so much fun, and they're so talented. This is one of my favorite, favorite auditions this year, I really mean that."
Cowell said he felt sure about how his fellow Judges would vote, but before they could get the chance, Host Crews appeared from backstage, shouting, "No, no, no…There is no need to vote. No need!"
Crews referred to his previous backstage conversations with Chioma after joining Judges Mandel, Klum, Vergara, and Cowell.
"Chioma, you told me backstage that you dreamed about being on AGT and getting a Golden Buzzer," said Crews. "Chioma and the Atlanta Drum Academy, I am honored to make that dream come true!"
The Host slammed on the Golden Buzzer, showering the drummers in a rain of gold confetti. They joyfully jumped and screamed, along with their teacher, Riles, who cheered from the audience.
When asked by Crews on stage what it was like to have his dreams come true, Chioma shouted, "It is amazing!"
The competition continues with new episodes of America's Got Talent airing Tuesdays at 8/7c on NBC and streaming the next day on Peacock.