NBC Insider Exclusive
Create a free profile to get unlimited access to exclusive show news, updates, and more!
Sign Up For Free to View
Platt Made a Special Appearance on Chicago Fire to Help Brett
We loved this crossover moment!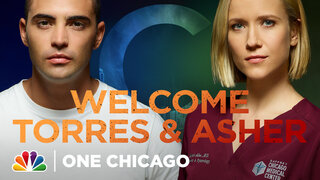 If you watched Chicago Fire Season 11, Episode 2 on Wednesday, September 28, then you know Platt (Amy Morton) made a special appearance to help Brett (Kara Killmer) through her breakup with Casey (Jesse Spencer). 
It was a brief but powerful scene. Mouch (Christian Stolte) and Platt had Brett over for dinner, and Platt offered the young paramedic some comforting words. "Breakups are hard," she said before launching into her own stories about tough romantic times from her 30s. It was a brief but sweet reminder that good friends are the medicine to get you through hard times. 
Related: Kara Killmer Reveals the Moment Brett Knew She Had to Break Up With Casey
Stolte told NBC Insider this little crossover moment was happening. "Trudy is going to be showing up a bit on Fire this season, and the first thing she's going to do is help  [Brett] get through a difficult time," he said. 
Morton also confirmed this to NBC Insider and teased that some more Mouch-Platt crossover moments are coming. 
"She's appearing on Fire a little bit more than usual," she said. "It's kind of a whole different flavor of Platt that you get that has been very much a lot of fun to do. Her and Mouch are up to their old tricks. You'll see."
As for where Brett's headed this season, Killmer tells NBC Insider she'll be focusing on work to get through her heartbreak. 
"It'll be interesting to see her really dedicate herself to her career," she says. "And I think we've always seen Sylvie in a relationship. We've always seen her in a romance. She's a hopeless romantic, but I think it's important to see her come into her own and focus on her own things. Friendships and her career, not just her love life."
Does that mean more friendship moments between Platt and Brett are on the horizon? Maybe a girls night out? To find out, watch Chicago Fire on NBC Wednesdays at 9/8c and next day on Peacock.