NBC Insider Exclusive
Create a free profile to get unlimited access to exclusive show news, updates, and more!
Sign Up For Free to View
Bupkis Star Pete Davidson & Mom Discuss Mother's Day Mishaps with Edie Falco
Pete Davidson, his real-life mom, and his on-screen mom, Edie Falco, talked about how important Mother's Day is to them ahead of Bupkis premiere.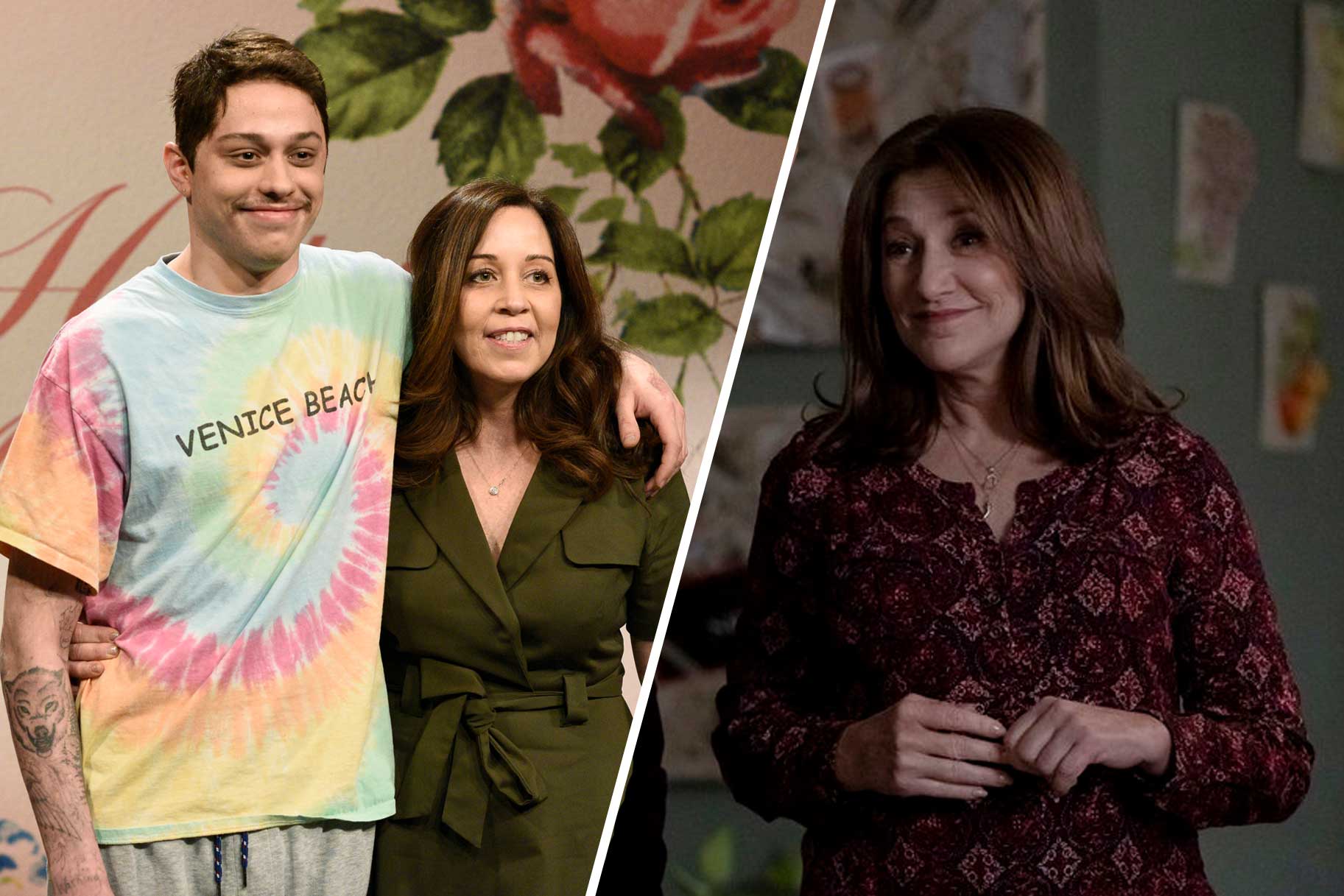 This Mother's Day, Pete Davidson will celebrate the holiday with his real-life mom, Amy, as well as his new on-screen mom, Edie Falco, who co-stars with him on the Peacock original series Bupkis. In honor of the upcoming holiday, the Saturday Night Live star sat down with his two moms and discussed times things went awry on Mother's Day. 
In addition to writing and creating Bupkis, Davidson will also play himself in the exaggerated retelling of his actual life with Falco playing his mother in a close enough to true story about their life on Staten Island. So, it only made sense for him to sit down for a chat about how mothers and kids celebrate Mother's Day with these two women, which Good Housekeeping was there to capture. 
RELATED: Pete Davidson's 'Unfiltered' New Peacock Comedy Bupkis Gets First Look, Premiere Date
"Mother's Day is an important holiday in my household," Davidson revealed. "We're a close family, and growing up, my sister and I always tried to make things special, although I wasn't always good at it. I'm pretty sure I bought her the same Britney Spears perfume eight years in a row." 
Being the understanding mother she is, Amy noted that although she never wore the scent, she was grateful to get it every year. That's not to say that the Davidson kids always botched the gift-giving portion of the holiday. Breakfast in bed usually ended up being her favorite tradition because Pete usually went all out. 
"Despite what you may think, we have good culinary talent in Staten Island. It's not just veal parm and Margherita pizzas," he joked. 
Amy shared a particularly memorable time in which her son's culinary skills were on full display. 
"One Mother's Day, Pete outdid himself and made me an entire croquembouche. It was unimaginable, like something out of an exotic French bakery! A beautiful tower of cream puffs drizzled with chocolate caramel! It was mind-blowing and how I knew my little boy had something special, if this was what he could pull off when he focused his love and energy." 
However, Pete joked that his mother's recollection of the recipe may have been a bit skewed. He implied to the magazine that he merely bought Dunkin' Donut Munchkins and let them sweat in the sunlight until they congealed and "coincidentally resemble a croquembouche." 
Falco had a similar breakfast-in-bed story that her kids attempted to pull off when they were quite young and didn't yet know their way around the kitchen. 
"One Mother's Day when my kids were very little, they decided to have my breakfast waiting for me when I came downstairs in the morning. It was dinosaur oatmeal, the kind you rip open and add hot water to, and my coffee," she said. "Now, they were little, so they didn't know I didn't take sugar in my coffee. And they also didn't quite know the difference between the salt and the sugar, so it wasn't the best cup of coffee I ever tasted, but they won some serious points for adorableness."
Falco will be one of many stars on hand to help Davidson tell the next part of his life story. Helping complete their on-screen family will be Joe Pesci portraying his grandfather, not to mention a slew of guest stars who his character meets on his rocket ride to fame. 
Catch all episodes of Bupkis when they premiere on Peacock on May 4.