NBC Insider Exclusive
Create a free profile to get unlimited access to exclusive show news, updates, and more!
Sign Up For Free to View
Blake Shelton Ended This Duet with Gwen Stefani by Giving Her Many Tiny Kisses
They just can't get enough of each other!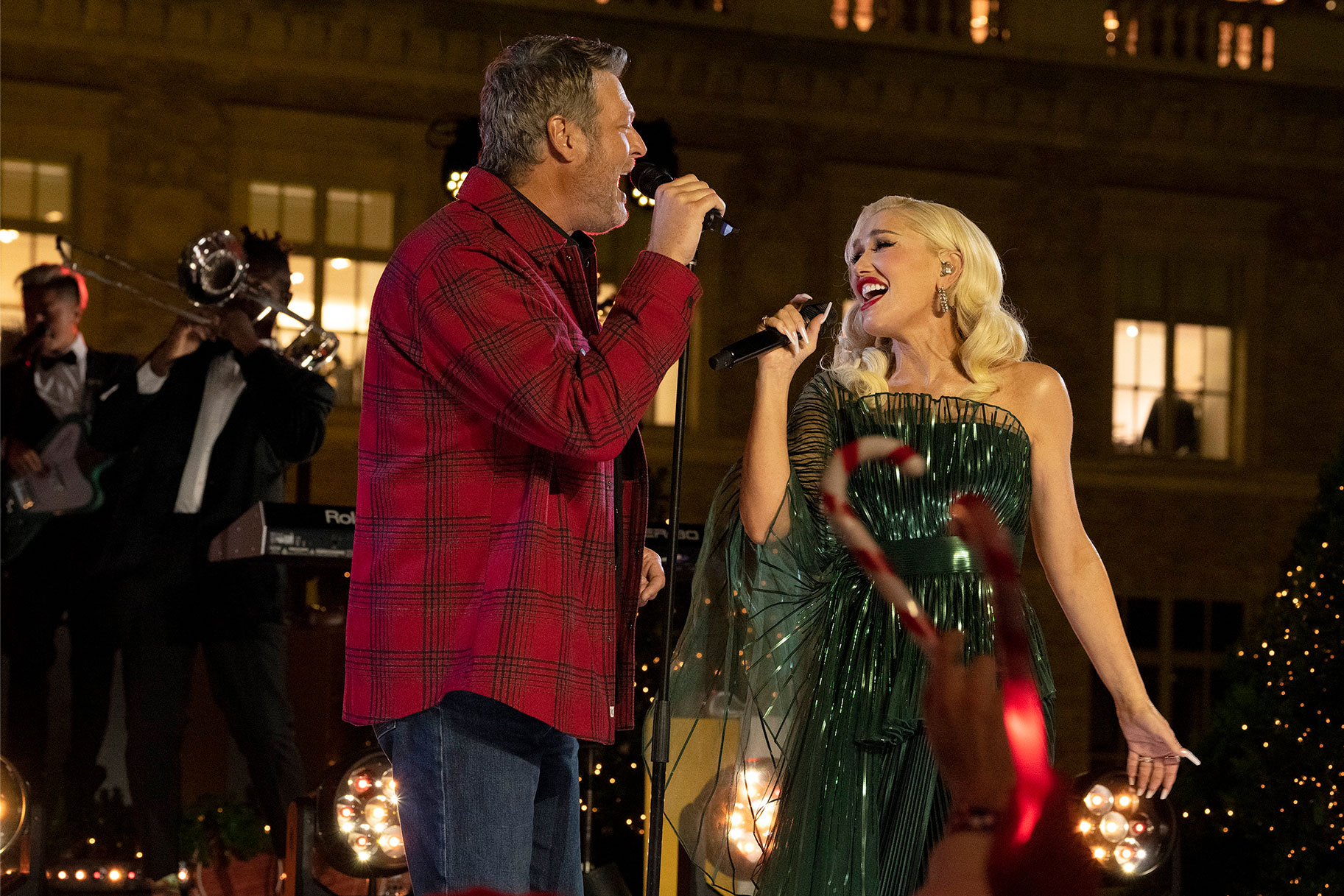 Blake Shelton and Gwen Stefani are so in love, and their many duet performances prove it. 
Exhibit A: In 2021, the Voice Coach shared a heartfelt video on his official YouTube page of himself and Stefani singing their emotional collab "Nobody But You." Shelton starts the performance solo before Stefani joins him onstage, looking as gorgeous as ever. We then see a compilation of the couple sharing affectionate moments together before Shelton showers Stefani with a bunch of sweet pecks on her cheek. So cute!
Watch the performance video, below: 
About "Nobody But You"
"Nobody But You" is a country power ballad released in 2019 from Shelton's compilation album Fully Loaded: God's Country. Lyrically, the romantic duet centers on Shelton and Stefani expressing their desire to spend the rest of their lives with each other. 
"Nobody But You" lyrics
Don't have to leave this town to see the world
'Cause it's something that I gotta do
I don't wanna look back in 30 years
And wonder who you're married to
Wanna say it now, wanna make it clear
For only you and God to hear
When you love someone, they say you set 'em free
But that ain't gonna work for me
I don't wanna live without you
I don't wanna even breathe
I don't wanna dream about you
Wanna wake up with you next to me
I don't wanna go down any other road now
I don't wanna love nobody but you
Looking in your eyes now, if I had to die now
I don't wanna love nobody but you (You)
All the wasted days, all the wasted nights
I blame it all on being young
Got no regrets, 'cause they got me here
But I don't wanna waste another one
I been thinkin' about what I want in my life
It begins and ends the same
If I had to choose what I couldn't lose
There'd only be one thing
I don't wanna live without you
I don't wanna even breathe
I don't wanna dream about you
Wanna wake up with you next to me
I don't wanna go down any other road now
I don't wanna love nobody but you
Looking in your eyes now, if I had to die now
I don't wanna love nobody but you (You)
I don't wanna love nobody but you (You)
I wanna say it now, wanna make it clear
For only you and God to hear
I don't wanna live without you (I don't wanna live)
I don't wanna even breathe
I don't wanna dream about you
Wanna wake up with you next to me (Next to me)
I don't wanna go down any other road now
I don't wanna love nobody but you (I don't wanna love nobody)
Lookin' in your eyes now, if I had to die now
I don't wanna love nobody but you (You)
I don't wanna love nobody (You)
I don't wanna love nobody but you