NBC Insider Exclusive
Create a free profile to get unlimited access to exclusive show news, updates, and more!
Sign Up For Free to View
The Bel-Air Cast Teases New Character Goals, Romances & Stressors In Season 2
Jabari Banks, Olly Sholotan, Coco Jones, and Akira Akbar spill some Bel-Air Season 2 secrets.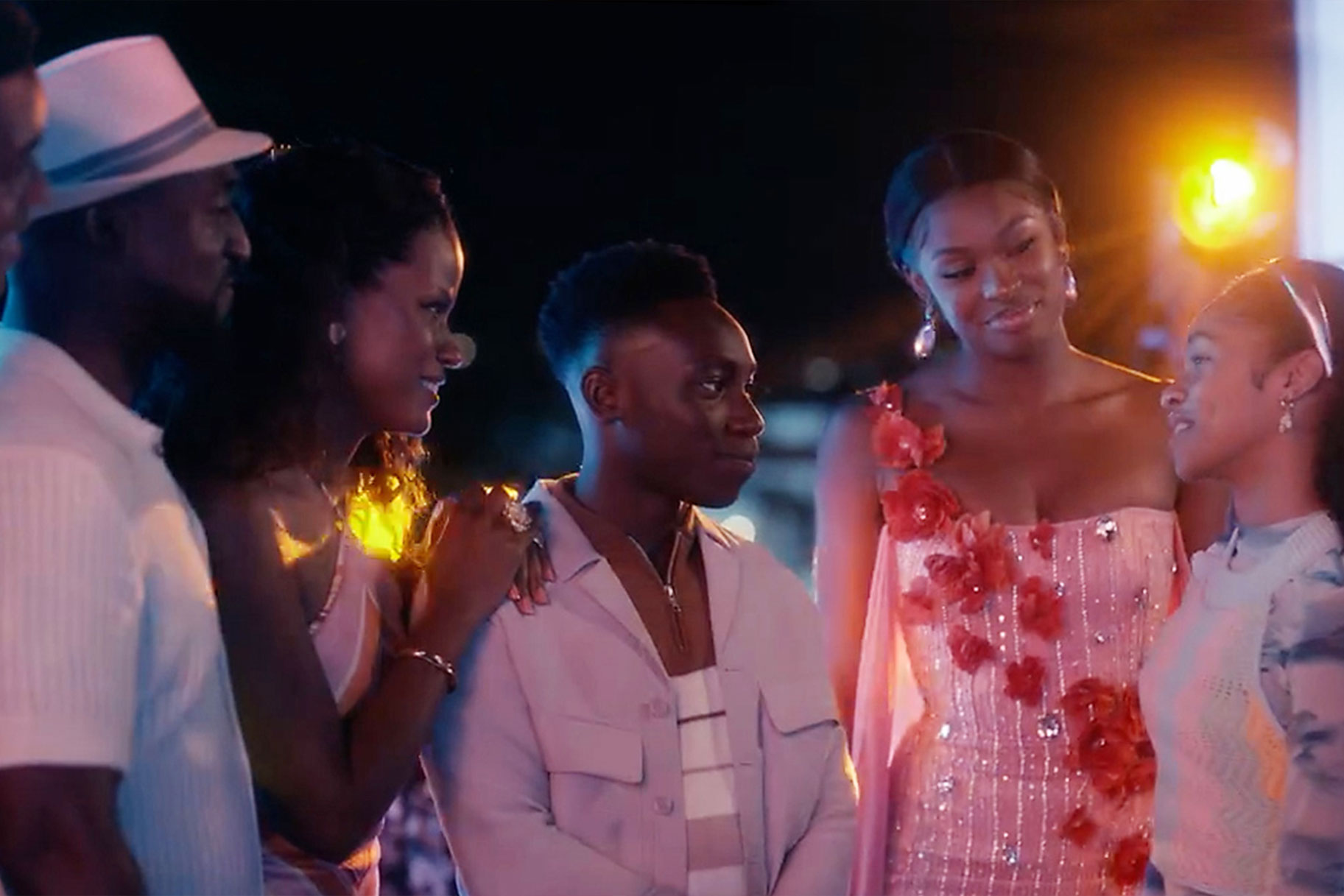 The first season of Bel-Air had a lot of heavy lifting in terms of honoring its '90s predecessor The Fresh Prince of Bel-Air and setting up its own riff on that classic series. But it more than succeeded in the span of just 10 episodes to give audiences a contemporary take on the now-iconic sitcom premise: Spiraling Philly kid, Will Smith (Jabari Banks) gets packed up by his mom to move to California with his wealthy Uncle Phil (Adrian Holmes), Aunt Vivian (Cassandra Freeman), and their three kids, Carlton (Olly Sholotan), Hilary (Coco Jones), and Ashley (Akira Akbar). 
Season 2 of Bel-Air starts streaming on Feb. 23 on Peacock and picks up where the first season finale left off. Will is still shaken by the appearance of his absentee father, Lou (Marlon Wayans), the knowledge that he was incarcerated during his childhood, and their physical altercation. Ready to leave Lou and the Banks family behind because of all their "betrayal," Season 2 finds Will wrestling with his trust issues and making moves to figure out who he wants to be. 
At a recent interview in Los Angeles with the Bel-Air cast, Banks tells NBC Insider that he thinks Season 1 of the show did the hard work of reintroducing the characters back into the world well, and now there's freedom to explore more. "We get to delve deeper into who these characters are, and their interpersonal relationships," he teases. "And that was super important to me."
In particular, Banks says Will's complicated feelings about his father — and how everyone in his family didn't tell him the truth about his past — will bubble up throughout Season 2. "I think a lot of times as youth, we don't we don't understand how [things] truly affect us," he says. "Like, I was talking to somebody and they were like, 'Yeah, I think the biggest moment for me was when my mom blocked me because I did this wrong and that's stuck with me for 30 years.' I think that we can see Lou's influence in that way, rather than his physical presence, this season."
As already announced for Season 2, young Ashley (Akbar) will get some mentoring from her teacher, Mrs. Hughes (played by OG Ashley, Tatyana Ali), which will help her find her voice. "I think it's important for Ashley to show the activism side of her because it's really important to speak out for what you want, especially nowadays," Ackbar says of her character's new arc. "And for Ashley being as young as she is, it's really inspiring for people to see that on-screen and want to do the same thing."
Inspiration is also a big motivator for Hilary (Jones), who begins the season prospering as a freshly independent social influencer and in a real relationship with record store owner, Jazz (Jordan L. Jones). "She's on her own and she's successful and opinionated as a Black woman. And that isn't intimidating," Jones says with excitement. "An interesting plight in Hilary's storyline is that she and Ivy (Karrueche Tran) kind of have this tug-of-war of who's going to be the head honcho? That is a very popular storyline with Black women in the same field feeling like there's only one spot, you know? I love that we're exploring that and showing that's not the healthiest mindset. Because if you have an abundance mindset, you can find a seat at the table if you work hard enough and you're consistent."
As for Hilary and Jazz, Jones says she was very aware that audiences were rooting for them, and this season will reward them ... at least initially. "[She] and Jazz have this really cute relationship. But unfortunately, some things happen," she warns. "Someone from her past comes in and shakes things up. But I'm excited for the world to see them in love. I think that's so different from the original storyline. And I think everyone will get a kick out of that."
Last but not least, Carlton (Sholotan) continues to carve his own space of excellence in his family, even though he's still got lingering jealousy issues about Will taking his parents' focus.
"I always say that at his core, my version of Carlton and Alfonso Ribeiro's version of Carlton really are the same under a very different lens and under a different genre," Sholotan says of the sitcom and now the dramatic versions of his character. "They're both driven. They're both smart. They both hold themselves to really high standards. I think in our version, it's just about continuing to explore how social dynamics and how today's age — whether it's through social media or just the social issues that we deal with — how that effects a kid who is driven, smart, and holds himself to a really high standard."
Season 2 will continue to explore Carlton's struggle with mental health issues as he suffers from panic attacks from all the pressure. "The writers give me a lot of beautiful, beautiful scenes, but those scenes are very hard," Sholotan says with candor. "But at the end of the day, it comes from a place of truth. I understand the responsibility that I have as a creative, and as an artist, to showcase these very difficult and tough situations authentically.
"At the end of the day, I think that's what we all want to do," he continues. "And knowing that I get to play a character that makes so many young people feel seen is the biggest honor of my life. So what I can say is that mental health is a journey, right? There's good days and there's bad days, and I think that Carlton is going to show you guys a lot."
Season 2 of Bel-Air begins streaming Feb. 23 on Peacock.