NBC Insider Exclusive
Create a free profile to get unlimited access to exclusive show news, updates, and more!
Sign Up For Free to View
A Deep Dive Into All the Filming Locations on Chicago Fire
We thought that Molly's looked familiar...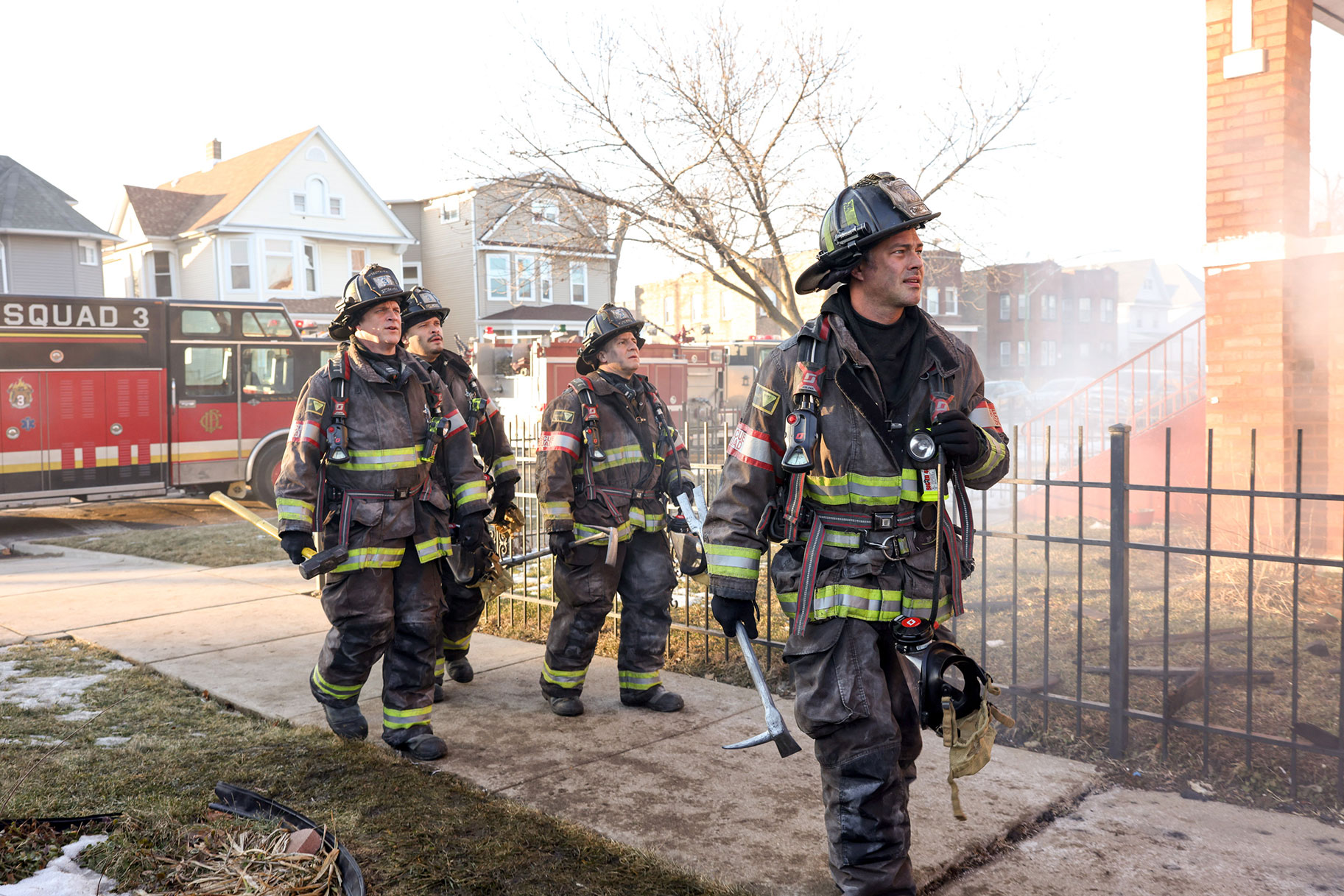 Chicago Fire fans enjoy the show for its thrilling suspense, action-packed plot, and endlessly lovable characters. It's not uncommon to find said characters speeding down a traffic-lined street, addressing a house call within a residential area, or heading to the bar after a long day's work. All of the action takes place within the backdrop of the Windy City skyline, which might beg the question of where Chicago Fire is filmed. We have answers! 
Where is Chicago Fire filmed?
Thanks to cinematic magic, Chicago Fire could have easily been shot anywhere, but the show is actually filmed on location. When Firehouse 51 is answering a call, fans will frequently see shots of major Chicago streets like the Magnificent Mile in the city's downtown or aerial views of the Chicago River. Those who reside in Chicago might find it simple to spot these familiar city landmarks and locations, but for those who live outside of the city, recognition might be more difficult. Let's recap some of the most frequent Chicago Fire filming locations.
Firehouse 51 
Many of the external shots of Firehouse 51 are filmed at an operational firehouse on the West Side of Chicago. The Engine 18 station is located on S. Blue Island Avenue. While it's a working firehouse, the location has also attracted its fair share of tourism since the series began. 
The interior shots of Firehouse 51 are filmed at Cinespace Chicago Film Studios. However, the internal scenes are heavily based on the station's exterior. Fun fact: Due to its iconic imagery within fire stations in film and TV, producers originally intended Firehouse 51 to have a sliding pole. Production even included a sliding pole in the series pilot. But Engine 18, and most of the new Chicago firehouses, are one-story buildings. To stay true to the setting, Chicago Fire ditched the pole to match Engine 18. 
Chicago P.D. scenes
When tackling citywide emergencies, it's common for Chicago Fire characters to interact with the law enforcement officers of Chicago P.D. Whether it's tracking down an arsonist or tackling inner-city corruption, it's not bizarre to see Chicago Fire scenes filmed at the police station. The external shots for Chicago P.D. scenes are filmed just around the corner from Engine 18. Similar to Firehouse 51, interior shots are filmed inside Cinespace Chicago Film Studios. 
Molly's Bar 
Chicago Fire's mainstay libation station is Molly's, owned by fellow firefighters Christopher Herrmann (David Eigenberg) and Randall "Mouch" McHolland (Christian Stolte), as well as the latter's onscreen wife, P.D.'s Trudy Platt (Amy Morton).The string lighting-adorned bar is Lottie's Pub, a bar located in the Bucktown neighborhood of Chicago. It's known by Chicago locals for its great happy hour deals and open mic nights, perfect for the Chicago Fire ambiance. To prevent any disruptions to Lottie's business, later seasons of Chicago Fire recreated the interior of Lottie's at Cinespace for any Molly's-set scenes. 
The Chicago Fire Season 10 finale airs May 25 at 9 p.m. ET on NBC. The show will return this fall.