NBC Insider Exclusive
Create a free profile to get unlimited access to exclusive show news, updates, and more!
Sign Up For Free to View
Who Is Ian Flanigan from The Voice? A Refresher on the Team Blake Singer
New York singer Ian Flanigan thought he was performing his final gig when talent scouts spotted him at a Nashville dive.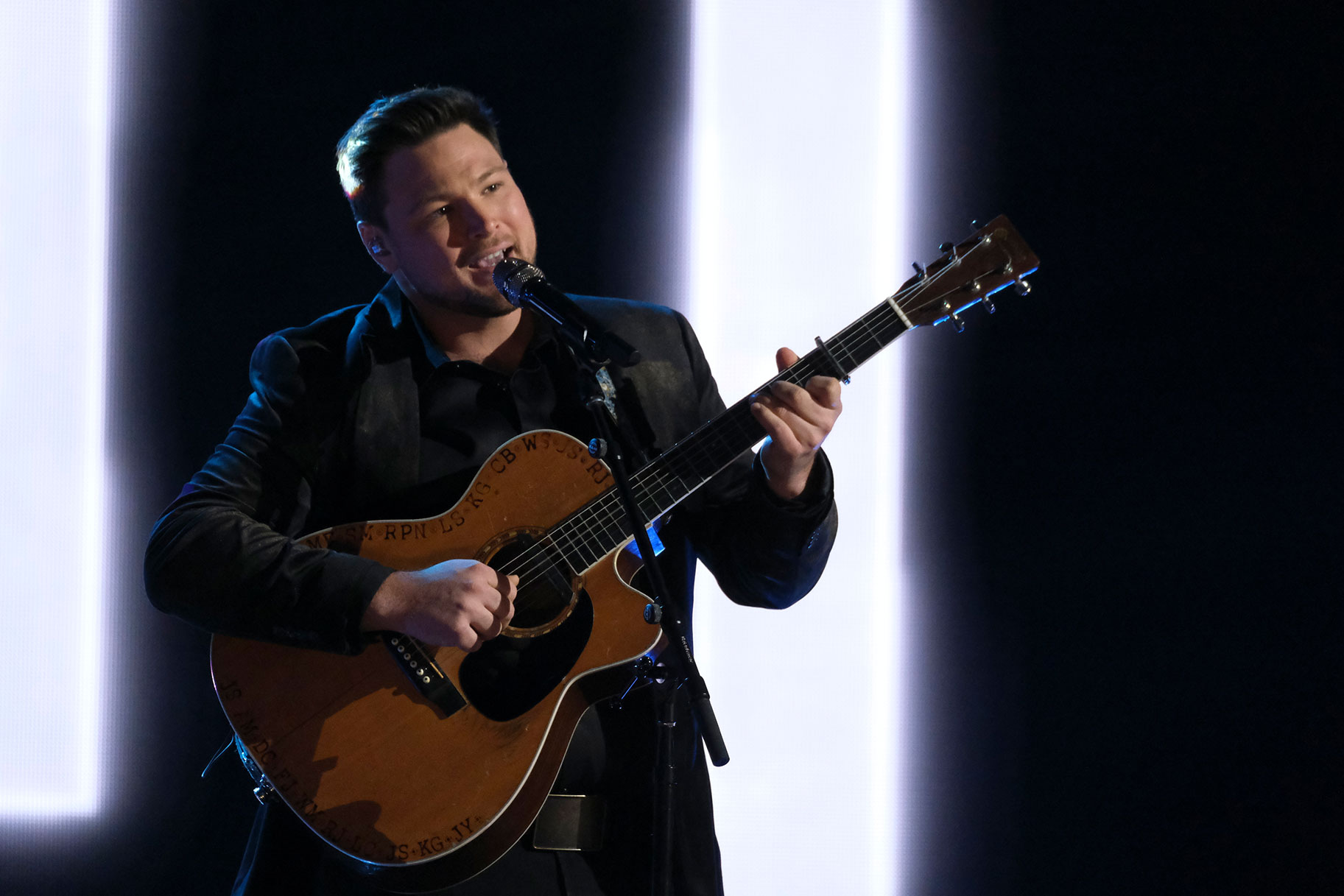 Once dubbed by former Mega Mentor Usher as a "top gun" on Season 19 of The Voice, finalist Ian Flanigan joins a chorus of emotional goodbyes for Coach Blake Shelton's final farewell.
Shelton's decision to retire following the end of Season 23 marks the final chapter for the last standing O.G. Coach since The Voice premiered in 2011. One of his most notable protégés, fellow country singer Ian Flanigan from Saugerties, New York, was one of many Team Blake contestants to return to bid Shelton farewell, as were past Artists Todd Tilghman, RaeLynn, and Danielle Bradbery, to name a few.
How Did Ian Flanigan Do on The Voice?
Flanigan came onto the scene during The Voice's Blind Auditions in Season 19, performing the Zac Brown Band's "Colder Weather," prompting Shelton to turn his chair and compare the Artist's sound to legendary singer Joe Cocker.
Longtime Coach Kelly Clarkson and former Coaches Gwen Stefani and John Legend declined to turn their chairs during the song, though all commended the singer for his old, gravelly sound, which complemented his country-singing style.
RELATED: Gwen Stefani Shared Sweet, Rare Footage of Her Kids at Blake's Walk of Fame Event
"I don't know if there was an accident that made you have that voice like you accidentally swallowed a fire at some point as a child, DNA from a lion," Shelton joked. "Now you're on Team Blake. We're gonna have a blast, dude."
Before his Blind Auditions, then-30-year-old Flanigan lived a nomadic lifestyle, traveling the country in a motorhome with his family, according to the singer's website. He expected to sing his final gig at the cusp of the COVID-19 pandemic when NBC scouts first heard his "whisky-and-cigarettes" voice at a Nashville honky tonk venue.  
RELATED: Who Are Blake Shelton's Most Frequent Songwriting Partners?
Flanigan's audition swiftly landed him in The Battles, where he proved himself worthy once again when dueling against Aaron Scott with the Creedence Clearwater Revival hit "Have You Ever Seen the Rain?"
He would later win The Knockouts by singing Luke Combs' country song "Beautiful Crazy" when up against Team Legend singer James Pyle (you can see Flanigan's best performances here).
Flanigan advanced in The Playoffs with Bob Dylan's "Make You Feel My Love," a song famously covered by hundreds of high-profile artists, including Adele.
After landing in The Lives' semi-final rounds, the singer performed Sarah McLachlan's "Angel" and moved onto the Finals, but only after America voted to save him following his cover of "Anymore" — something Shelton relied on.
"I strongly believe that America loves you, and you're gonna be in the finale," said Shelton, noting Flanigan had a "once-in-a-lifetime voice."
Ultimately, Flanigan placed third in the season.
What Has Ian Flanigan Done Since The Voice?
Flanigan has since joined Reviver Music and continues songwriting and singing, with recent hits such as "Devil in My Hands" and "Grow Up," the latter featuring the one and only Blake Shelton. He is currently on tour with upcoming stops across the country, including the CMA Music Festival 2023 in Nashville, according to Flanigan's website.
RELATED: Blake Shelton Is "Most Comfortable" Here: See Where He Lives
Celebrating five years of sobriety, Flanigan also sits on the advisory board for Hope Rocks, a New York-based organization aimed at helping those living with addiction and mental health issues.
"Today, you will still find Ian and his family on the road, navigating the backroads and boulevards of the American dream," it states on his website. "Through it all, his faith in his family, his faith in himself, and the faith he maintains in the path set out before him knows no boundary."
He regularly posts his own music videos, including original songs, on his Instagram page.
Before The Voice's Season 23 Live Rounds, he joined a star-studded Live in the Vineyard Goes Country event in Napa Valley, California, featuring Jake Owen, Lauren Alaina, and others.  
Catch up on The Voice, including Shelton's emotional sendoff, on NBC and Peacock.