NBC Insider Exclusive
Create a free profile to get unlimited access to exclusive show news, updates, and more!
Sign Up For Free to View
Behind Morgan Taylor's 'Special' 4-Chair Turn Audition: 'This Person's Voice Matters'
Blake Shelton called it "unbelievable."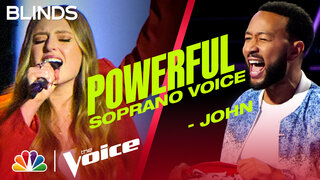 Morgan Taylor's Blind Audition on The Voice was impactful from the jump. The 20-year-old performed "Cuz I Love You" by Lizzo, and her powerful rendition got three almost-instant chair turns from John Legend, Gwen Stefani, and Blake Shelton. Camila Cabello shortly followed, giving Taylor the coveted Four-Chair Turn on The Voice.
"I see somebody who was born to do what you're doing," Stefani told Taylor, a college student from Indiana but currently living in Nashville  "Finally, you're on a stage, and all of America got to see you belt out the gift that God gave you." 
More Powerful Performances From The Voice Season 22: 
The praise kept coming. "That song is such a daunting song to take on," Legend said. "You have such a powerful soprano voice. The higher part was so compelling; it sounded like it should be on the radio. It sounded special." 
Cabello urged Taylor to pick her by noting how she knows the pop music landscape quite well. However, Shelton chimed in quickly after this, saying, "Camila may know the pop landscape very well, but we happen to be on The Voice, and I know [the show's] landscape very, very well. I pushed my button three seconds into you singing. This person's voice matters. You stand out. Unbelievable. I would be so excited to have you on my team."
Ultimately, Taylor went for Team Legend, giving the tenured Coach a much-needed win. But is this enough for Team Legend to win it all this season? To find out, watch The Voice on NBC Mondays and Tuesdays at 8/7c and next day on Peacock.