NBC Insider Exclusive
Create a free profile to get unlimited access to exclusive show news, updates, and more!
Sign Up For Free to View
Why 13-Year-Old Reina Ley's Blind Audition Got Gwen and Camila Out of Their Chairs
Camila Cabello loved the adorable Mariachi rendition!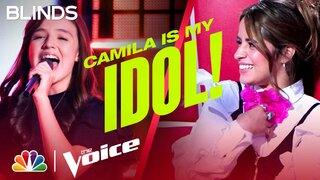 The Voice Blind Auditions are back and bringing some of the show's greatest talent yet! When Reina Ley stepped onstage to perform a heartfelt rendition of the Mariachi song "Cielito Lindo," Coaches Camila Cabello and Gwen Stefani turned around almost immediately. And then got out of their chars to dance!
"I'm 'gonna fight you!" Stefani teased Cabello as they rose from their seats and began to sway to the rhythm. When the song was over, Ley and Cabello began to converse together in Spanish, establishing a clear connection. Ley then revealed that she is only 13 years old, one of the youngest Contestants even allowed to audition on The Voice!
Related: Why John Legend Says The Voice Coaches Should 'Look Out' for Camila Cabello
"I'm so proud of our culture and all that music is such a beautiful thing to tap into," Cabello commented on Ley's adorable cover. Stefani then went on to describe the performance as "raw and pure."
Coach Blake Shelton advocated for Cabello's enthusiasm for Ley. "When you started singing, I could see how excited she got," he said before jokingly remarking that Cabello would have Ley sing "The Macarena" as her next performance, an idea Cabello shut down quickly.
When it came time for Ley to make her selection for who would be her Coach between Cabello and Stefani, Cabello showed her eagerness. "Either make my dream come true or crush my heart," she said passionately.
Ley ended up choosing Cabello as her Coach, referring to the "Havana" singer as her idol. But will the young singer go the distance? To find out, watch The Voice on NBC Mondays and Tuesdays at 8/7c and next day on Peacock.