NBC Insider Exclusive
Create a free profile to get unlimited access to exclusive show news, updates, and more!
Sign Up For Free to View
How Kim Cruse's 'Magical' Blind Audition Got Her a 4-Chair Turn
"What a magical, beautiful gift you have," John Legend told the singer.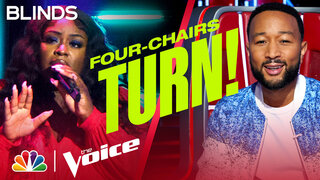 Kim Cruse did a stunning arrangement of "Best Part" by Daniel Caesar for her Blind Audition on The Voice Season 22, Episode 7, and she got a coveted Four-Chair Turn because of it. 
Because of that, she had a tough decision to make. Who would be her Coach? "The amount of talent that God poured on you is insane," Gwen Stefani told Cruse. "I lived your dream already, and playing your role as a Coach and being able to share the things I've learned through my journey brings me so much joy. I would love to do that with you. Did you hear the runs? I can't wait to hear you sing more! You're so beautiful." 
Related: The Important Reason Blake Shelton Says Gwen Stefani Is 'Killing It' on The Voice This Season
"What a magical, beautiful gift you have," John Legend added. "Everything that was coming from you felt natural. Nothing felt forced. I turned for you so quickly because I heard your tone!..I would love to help you figure out how to best display this amazing talent you have to the world." 
Meanwhile, Camila Cabello told Cruse, "I can tell you really worked on this arrangement. It's such a sign of an amazing melodic ear, which I feel like you have....Your tone is incredible. Your choices were incredible. And I'd love for you to pick me as your Coach." 
Related: Camila Cabello Reveals She Auditioned for The Voice as an Artist Prior to Her Big Break
However, perhaps Blake Shelton gave Cruse the most impassioned plea. "I have won this show with all kinds of different Artists. Yes, I've won the show with country Artists, but I've won the show with R&B Artists, with rock, with pop. There is absolutely no reason why you can't pick me as your Coach and win this freakin' show." 
Ultimately, though, Cruse went Team Legend. To find out what happens next, watch The Voice on NBC Mondays and Tuesdays at 8/7c and next day on Peacock.