NBC Insider Exclusive
Create a free profile to get unlimited access to exclusive show news, updates, and more!
Sign Up For Free to View
The Voice Just Received 4 Emmy Nominations
Let's all stand and applaud from our red chairs!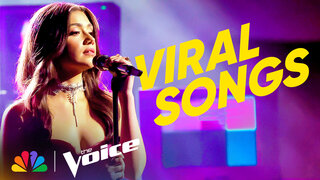 The Voice has seen two incredible seasons air back to back. Season 22 — which aired last fall — was one of the most memorable in the history of the music competition show. Not only did it bring Blake Shelton and Gwen Stefani together for the first time as Coaches who were also married, it welcomed Camila Cabello as a first-time Coach. Her sibling-esque rivalry with Shelton was a blast to watch. And, of course, John Legend delighted with his musical genius. 
Season 23 (this spring) was just as fun, with Shelton being joined by Kelly Clarkson and first-time Coaches Niall Horan and Chance the Rapper. Of course, the season was tinged with sadness, as it was Shelton's last in a red chair. That said, The Voice gave our cowboy the send-off he so deserved. 
With so many iconic moments sandwiched into these episodes, it's no surprise The Voice scored big at the 2023 Emmys, racking up four nominations total. Read, below, to find out which ones. 
RELATED: Blake Shelton Spending His Post-The Voice Summer at a Famous Party Lake
The Voice's 2023 Emmy nominations 
The Voice received these four Emmy nominations from the Television Academy: 
Outstanding Lighting Design/Lighting Direction For A Variety Series
Outstanding Reality Competition Program
Outstanding Sound Mixing For A Reality Program 
Outstanding Technical Direction and Camerawork For A Series
Shelton announced in October 2022 that Season 23 of The Voice would be his last. 
"I've been wrestling with this for a while, and I've decided that it's time for me to step away from The Voice after Season 23," Shelton said in a statement. "This show has changed my life in every way for the better, and it will always feel like home to me. It's been a hell of a ride over these 12 years of chair turns, and I want to thank everyone at The Voice from NBC, every producer, the writers, musicians, crew and catering people; you are the best."
RELATED: Usher Went Country and Covered Blake Shelton's "Neon Light": Listen
He continued, "It takes a lot of work, passion, and adult beverages (Ha!) to pull off a live show twice a week. I've made lifelong bonds with Carson and every single one my fellow Coaches over the years, including my wife Gwen Stefani! I have to give a huge shoutout to the singers–the 'Voices,' who come on this stage season after season and amaze us with their talent, and a special thanks to those who chose me to be their Coach. Lastly, it's about y'all, the fans, who watch and support these Artists, us Coaches, and everyone at The Voice who are chasing their dreams. It would not happen without you!"