NBC Insider Exclusive
Create a free profile to get unlimited access to exclusive show news, updates, and more!
Sign Up For Free to View
9 Hilarious Times The Voice Coaches Roasted Each Other
Over 21 seasons, the Coaches don't hold back from saying what's on their minds.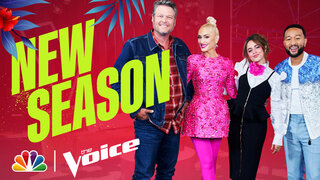 It's no secret that The Voice Coaches know exactly how to push each other's buttons.
It just wouldn't be the same competition without the banter we've grown to love and expect from the ever-changing panel of music industry heavy-hitters. Although it's clear that any and all roasting between Coaches is in good fun, it doesn't make their shade-throwing any less hilarious. Here's a look back at times the Coaches got spicy. 
1. Coaches Adam Levine and Blake Shelton squabbled nonstop 
The cheeky bromance between frenemies Adam Levine and Shelton during the earlier seasons of The Voice was certainly a bond for the books. From fighting over Artists during the Blind Auditions to playfully going for each other throat's closer to the Finals, Shelton and Levine never knew when to quit. Although the duo couldn't stand each other half the time, watching them playfully spar is surprisingly endearing. 
2. Coach John Legend penned a Voice victory jingle, but his fellow Coaches weren't having It
Season 20 of The Voice was chock full of panel arguing, but fans will never forget Legend's "Welcome to Team Legend" celebration song. Clarkson, Shelton, and Nick Jonas all grew sick of the "All Of Me" singer's custom track, but mainly because it was just so catchy. Shelton called the song "stupid," but he didn't seem to think so while humming it in the red chair.
3. Shelton called out Coach Kelly Clarkson during Season 21's Blind Auditions 
Country singer Lana Scott became a Coach favorite as soon as she hit the stage during the Season 21 Blind Auditions. As expected, it wasn't long before a dialogue between Shelton and Clarkson started heating up as both coaches tried to convince Scott to make the "right" choice. 
4. Clarkson bursts out laughing while Shelton shot promos for Season 20
In the behind-the-scenes footage for The Voice Season 20, Clarkson and Shelton laughed with each other like siblings after Shelton's country accent came out in full force while saying "Hello, Taiwan." Clarkson instantly burst out laughing, causing the entire Coaching lineup and audience to lovingly cackle as well. "I don't know why it's funny!" Shelton exclaimed, then said, "Hey, Canadia!"
5. Legend roasted Shelton for his Voice winning streak
The Season 20 Coaches were known to bicker like family, with Legend and Shelton quickly bickering like brothers while behind the scenes. "I read a blog once where you're like the most successful Coach ever on The Voice," Legend told Shelton. "You read it?" Shelton asked, before adding, "You read my work?" Legend then hit back by hilariously saying, "It did say, 'Written by B.S.'"
6. Shelton and Clarkson, at it again 
The immensely talented singer BrittanyBree wowed the judges during another Season 21 Blind Audition. The Voice fans already know that nothing brings out the Coaches' competitive streaks like a 4-chair turn. By the end of Bree's performance, Shelton was coming for Clarkson with some very sassy quips in hopes of gaining the upper hand.
7. Coach Gwen Stefani and Shelton bickered as rival Coaches — and a couple – in Season 19
Before Shelton and Stefani tied the knot as The Voice's famous power couple, they appeared as rival Coaches and romantic partners while sitting in the red chairs for Season 19. Despite their relationship, Shelton and Stefani weren't afraid to let their feelings about the other be known, especially in the name of winning. "What's the matter with you?" Shelton yelled, with Stefani telling him, "You're so stupid!" The couple's endearing love of competition — and playfully ribbing each other — has Voice fans thrilled to see what they'll get into during Season 22.
8. Shelton shut down Clarkson for trying to seize country Artists
Back in Season 15, Clarkson was doing her best to snatch some of the country Artists away from Shelton with no luck. "Kelly is definitely my main competition when it comes to country artists," Shelton explained. "I mean, not really, but she thinks she is." Levine even had to step in and give Clarkson some pointers for dealing with Shelton's shenanigans. "Don't be lured into his nonsense," the Maroon 5 singer explained. "He's gonna point some venom at you. Look at me when he does it. Don't look at him!"
9. Camila Cabello is already coming for Shelton in Season 22 
With The Voice Season 22 just around the corner, this recent trailer suggests new judge Cabello isn't afraid to push back at veteran judge Shelton, making fun of his malapropisms. With Coach Camila already making her mark, The Voice fans can anticipate a hilariously competitive rapport across the new season. 
The Voice Season 22 premieres Monday, September 19 at 8/7c on NBC and the next day on Peacock.