NBC Insider Exclusive
Create a free profile to get unlimited access to exclusive show news, updates, and more!
Sign Up For Free to View
Breaking Down Nicole Rémy's 'Cloud Nine' Date With Mr. Hunter on The Courtship
"You're quite sexy, I'm just 'gonna say," Rémy told Mr. Hunter.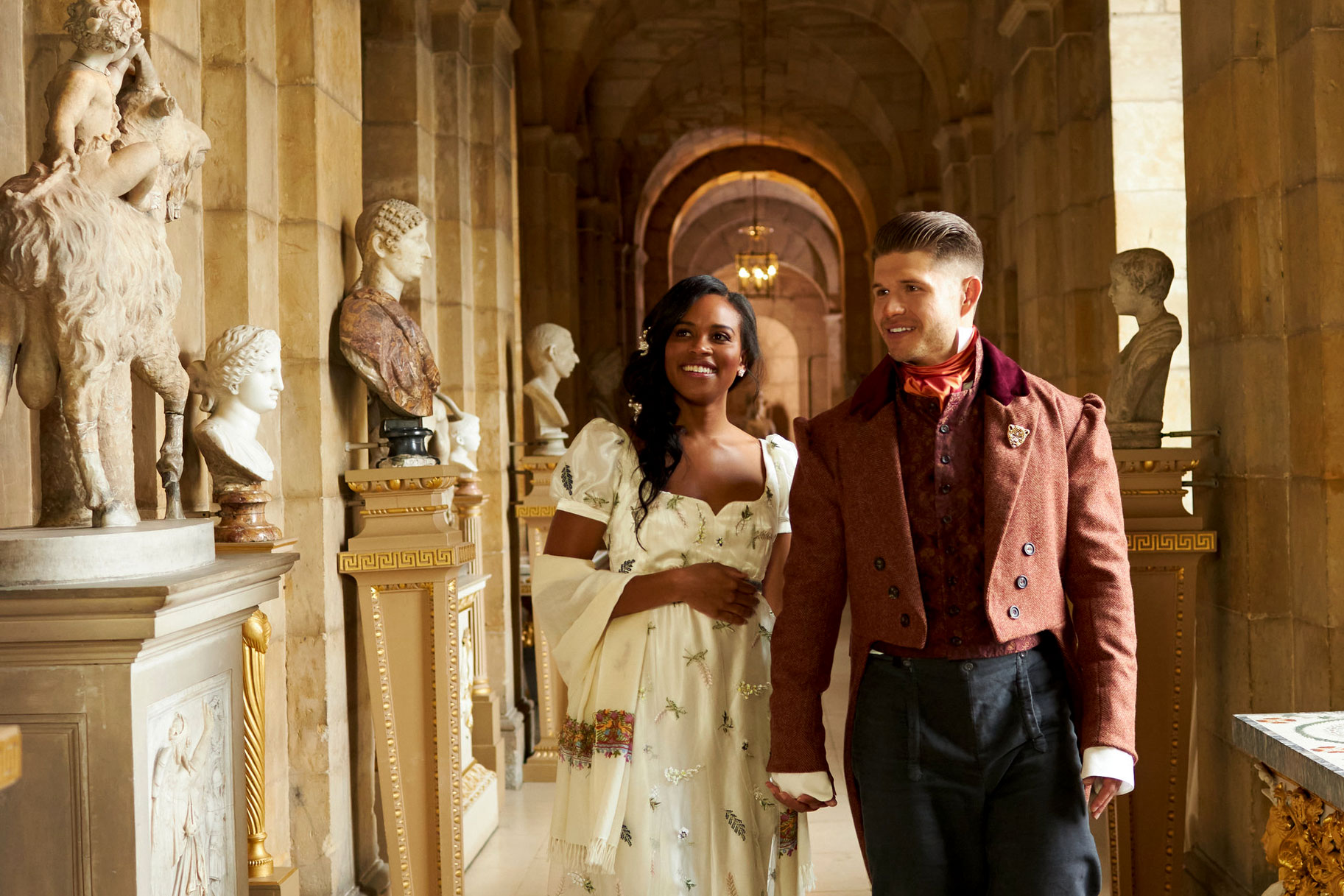 The Courtship Episode 2 aired Sunday, March 13, and so much went down. Mr. Peter Saffa took his shirt off in front of  Nicole Rémy's parents! Mr. Nate Shanklin serenaded Rémy with an, erm, sensual rendition of "Row Row Row Your Boat!" And on a serious note, Mr. Alex "Achilles" King got very vulnerable with Rémy about losing both his mother and brother. 
Several suitors received some alone time with Rémy during the rowboat excursion, but only one was selected by Rémy's parents for a proper one-on-date: Mr. Daniel "Dan" Hunter. And let's just say the chemistry was intense—so intense that the perceived frontrunner from Episode 1, Mr. Daniel Bochicchio, should be a little nervous. 
The date took place inside the Castle Howard, where Rémy and her Court are staying. Rémy gave Mr. Hunter a tour of the place, and things ended with some champagne and fancy-Regency-couch time inside Rémy's bedroom. The scandal! 
"It's definitely taboo to show a man, especially one that's courting you, your bedroom, but this is modern-day me living in a Regency world, and I'm making the rules here," Rémy said. 
Their conversation was effortless. Mr. Hunter opened up to Rémy about his unconventional childhood (for six years, he lived with his parents and sister on a boat, traveling the world). They then started cuddling, and Mr. Hunter told Rémy he realized all his travel experiences were missing something: a partner. "That's really what life is all about: living the adventure and having people to share it with," Mr. Hunter said. 
With this, the two kissed, and the sparks were palpable. "You're quite sexy, I'm just 'gonna say," Rémy told Mr. Hunter. "Is it the cravat?" he replied, referencing his Regency-era attire. "Oh, it's definitely the cravat," Rémy said, laughing. 
And just like that, we have a new suitor-to-watch on The Courtship. But who will win Rémy's heart in the end? Watch the show Sundays at 8 p.m. ET on NBC to find out. (And catch up now on NBC.com.)