NBC Insider Exclusive
Create a free profile to get unlimited access to exclusive show news, updates, and more!
Sign Up For Free to View
You Can Actually Visit the Romantic Castle From The Courtship
Don't mind us, we're just booking flights to North Yorkshire, England.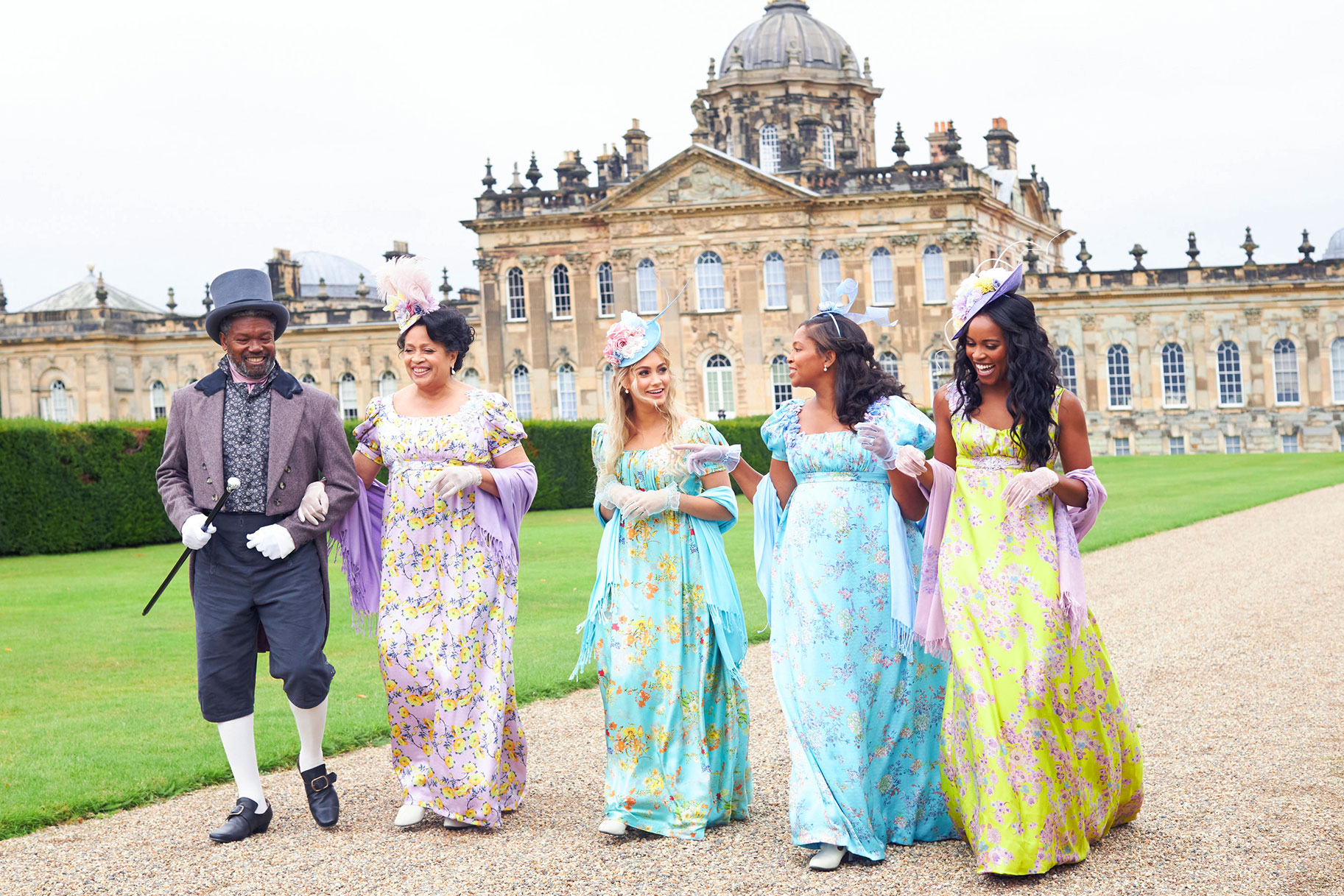 The Courtship's Nicole Rémy is living out a fairy tale in front of our eyes. For the next 12 weeks, we'll see the star of NBC's new dating series wooed and courted by 16 gorgeous men—with Regency-era England as their backdrop. At the end of Rémy's journey, she'll find her one true love and transport back to the modern world. 
One of the dreamiest details of the The Courtship? The larger-than-life castle where all the drama goes down. It turns out the palace is the very real Castle Howard, an ancient dwelling all the way in North Yorkshire, England. The Courtship was filmed at the location for five weeks, and executive producer DJ Nurre tells NBC Insider picking the property was the "easiest decision of the series." 
"It was the first location pitched to us by our crazy talented location scouts Craig Young and Grant Cummings," Nurre says. "All of our jaws dropped the moment we saw it. We actually resisted showing it to the network because we were worried we couldn't afford it, and once you see Castle Howard, every other option seems meek in comparison. But we found a way to make it work."
Read more, below, to find out more about the palace.
Castle Howard is more than 200 years old.
The ancient palace carries a ton of history. According to its website, design plans for the property first began in 1699 but construction lasted for more than 100 years. The final touches were completed in 1811, which just so happens to be the exact year the Regency era began.
The castle is named for the Howard family, early members of English nobility. It was Charles Howard, the 3rd Earl of Carlisle, who commissioned the property. "Eight generations of the Howard family have since occupied Castle Howard: each bringing different characteristics to the stewarding of this grand house and estate through centuries of challenges and opportunities," it says on the castle's website. "Their lives have been shaped by public service, political activity, artistic endeavour, and strategic marriages, typical of their own particular times."
Other fun facts about the mansion? It sits on 8,800 acres, features over 200 buildings and monuments, a vast art collection and public archive, two lakes, two gardens, and an adventure playground. 
Rémy and her family actually stayed at Castle Howard.
No, it wasn't all for show. The property really served as Rémy and her Court's home throughout filming. And yes, she's aware we're all just a tiny bit jealous. 
"Castle living...I mean it's incredible, right?" she tells NBC Insider. "It's basically a museum. We stayed in this gorgeous castle with marble everywhere, statues everywhere, paintings. It was a very unique experience, I wish everybody could try it."
But she did admit not everything was a fairy tale, especially when your new home is hundreds of decades old. "It creaks. It felt a little haunted at times, I'm not gonna lie. I mean, that castle's seen a lot of things," she says. 
If you want an up-close look at how The Courtship cast adapted to Regency living, Rémy's sister, Danie Baker, and best friend, Tessa Cleary, took us on an exclusive tour that you can watch, below. They show us everything from the great hall, Baker's self-professed "favorite room," and even a vintage throne (a.k.a., a toilet). 
You can visit—and sleep over—at the property, too.
If you're up for a journey to York, Castle Howard will definitely welcome you. Every year, the property is open to the public beginning in spring, with admission tickets ranging from $12.44 to $32.75 per person. You can tour the inside of the castle or its gardens, and there are also a selection of restaurants and shops.
And if you're feeling particularly adventurous, channel Ms. Rémy and live your very best life by staying on the property. No, we're not joking. There are various ways to live out your Regency dreams (according to your budget), from renting a vacation cottage to camping at the Lakeside Holiday Park.
The suitors had a separate house.
As they mention in the first episode, the group of suitors stayed separately from Rémy in their very own home. Though it wasn't a palace, the house was still on the castle's grounds. 
"Creatively we had discussed the benefits of the suitors living outside the castle," Nurre tells us. "It was more appropriate to Regency etiquette that they would live and sleep away from the castle and would aspire to be invited formally to the castle for more time with Nicole and her family. Luckily there was a beautiful Garden House a 10-minute walk from the castle still in the grounds. It had living space for all the suitors and a great outdoor space for them to congregate outside for exercise."
The Courtship's production team mixed old and new design details to create the set.
It's safe to say the property was a dream set for production. Seeing as the castle was built in the very era that inspired the show, the team was able to make use of authentic details unique to the space. These included furniture, rugs, wallpaper, and original stone and woodwork.
Production design team member Stuart Frossell tells NBC Insider that they filmed in the castle's museum spaces where there were strict "no eating or drinking" rules. They were also given permission to "own" a selection of rooms and have creative freedom.
"The unique thing about Castle Howard as a location is that there were rooms within the main castle whose interiors had been destroyed during a fire in 1940. These spaces were empty and being used as exhibition spaces with display boards covered in information for visitors to view while on the castle tour," Frossell says.
Production also had upholstery and drapery experts create custom soft furnishings and sent members of their team to auctions, dealers, and antique markets. They found pieces like a Regency-era piano, billiards table, and marble fire places.
"We created a total of three of our own rooms from the ground up. In a further eight rooms we removed the castle's belongings and replaced the furniture, rugs, and all the small artifacts with our own items. It required a ton of furniture and small antiques pieces that all had to be purchased," Frossell says. "Any of the furniture or props that you see the cast interacting with was almost exclusively sourced and purchased by my team. It was a huge task."
And if Castle Howard looks familiar, there's a reason why.
The massive home is no stranger to the glitz and glamour of Hollywood. Shows like Bridgerton and ITV's Queen Victoria have also filmed at the castle, in addition to the Arctic Monkey's 2018 "Four Out of Five" music video.
So what makes Castle Howard the perfect setting for all of our on-screen fantasies? "That place has a magical quality to it," Nurre says. "There's not a bad camera angle to be found. It's like a photo filter has been applied no matter where you look. It's the most romantic and telegenic location on planet earth, I think."
The Courtship airs Sundays at 8 p.m. ET on NBC.